Satpura Tiger Reserve
Satpura National Park is located in the Satpura Range of Hoshangabad district in Madhya Pradesh.
The Tiger reserve encompasses an area of 1427kmsq and was formed by the joining together of 3 wildlife sanctuaries, Satpura, Pachmarhi and Bori. Each of the original sanctuaries had quite different terrain so the national park offers very diverse habitats with deep valleys, sandstone peaks, narrow gorges, rivulets, waterfalls, thickly dense green forest of Sal and other medicinal herbs and Tawa vast reservoir.
Altitudes range from 290m to 1400 m. The highest peak in the park is Dhoopgarh at 1400 m.
Although the core Tiger reserve is 1427km sq, when you add on the buffer zone that surrounds it, the park covers an area of about 4500km sq.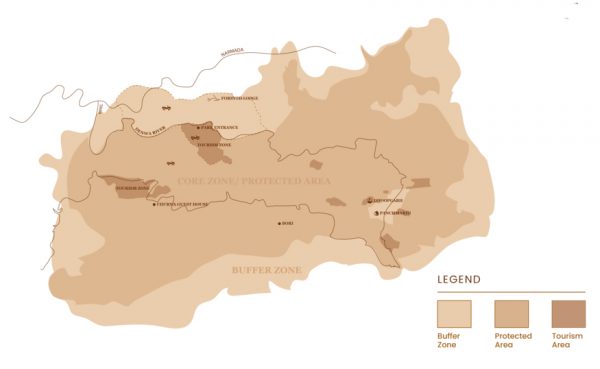 The people travelling with me in Satpura were all regular Africa visitors and we all commented how much the forests and rocky outcrops of Satpura's landscapes resembled Matopos NP in Zimbabwe.
The Denwa River is a lifeline for Satpura National Park. Originating from the south-eastern part of the Hoshangabad district in Madhya Pradesh it flows from east to west before joining the Tawa river at south of Rainpur.
At the confluence of Tawa & Denwa river, Tawa dam has been constructed. The Tawa reservoir gives visitors to Satpura the opportunity to do activities not available in other parks, such as boat trips and canoeing.
As with most Indian wildlife reserves, only a small portion of the park is open to tourist traffic.
Satpura National Park is very rich in bio-diversity
Fauna species include: Spotted Dear, Indian Bison(Gaur), Tigers, Leopards, Wild boar, Wild dog (locally called Dholes), Sloth bear, Black buck (unique attraction), Porcupine, Sambhar, four Horned antelopes (Chowsingha), Smooth otter, Pangolin, Marsh crocodile and Langurs. One of the rarer species found in Satpura is Indian Giant squirrel.
In terms of sightings, Leopards, Gaurs, Wild Dog and Sloth Bear are seen more frequently than in other parks. Tigers are sometimes more elusive, but the population is thought to be around 50 individuals.
If you are only interested in tigers, then Satpura is probably not the best park to visit. But if you want to see other wildlife, like leopards, sloth bears and giant squirrels it is amongst the best.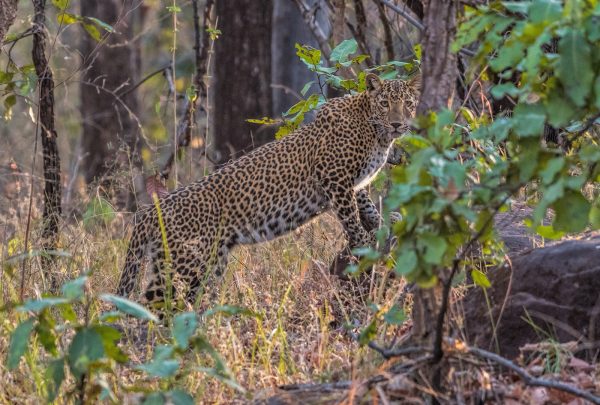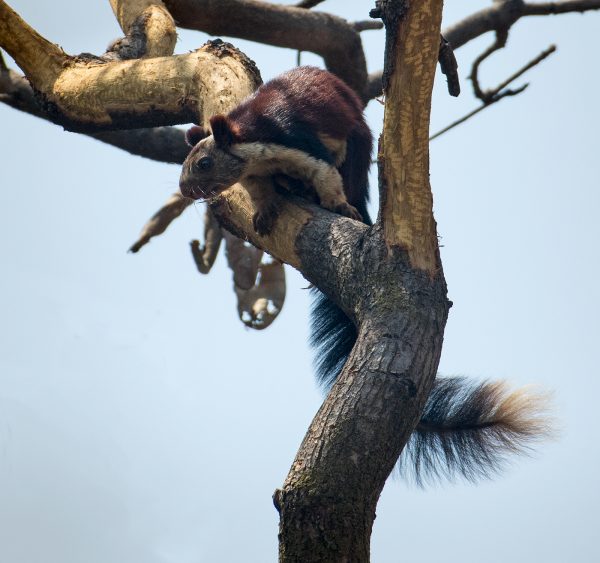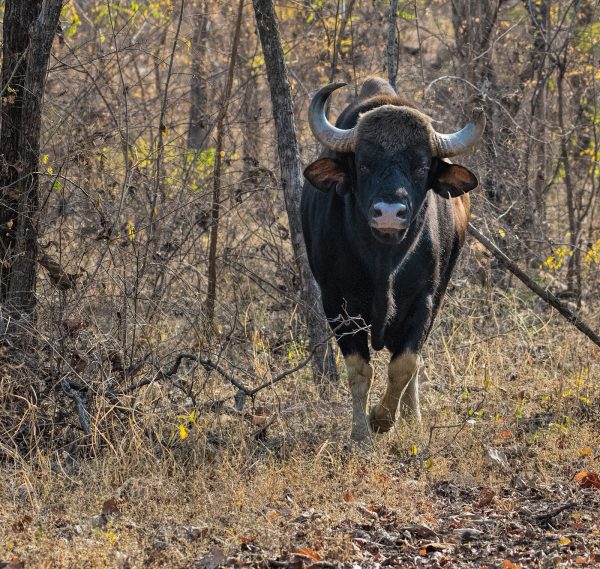 Bird-watching in Satpura National Park is outstanding, with a huge variety of forest and shore birds.
Getting to Satpura
Although Satpura is accessible by road and rail, the simplest way to get there is to fly into Bhopal, about 200km from Satpura. The flight time from Delhi to Bhopal is about 1 hour.From there it is approximately a 4 hour drive.
If you are travelling onwards from Satpura, Pench Tiger Reserve can be reached in about 5 hours on a very good & scenic road.
Bhopal is not at all what you'd expect. When you mention Bhopal, the first thing that springs into most people's minds is the industrial incident at the Union Carbide plant in 1984, when a gas leak affected around 500,000 people. Bhopal today is actually quite a green city and seems uncrowded by Indian standards. Their choice of the slogan 'City of Lakes' is a little unfortunate as it is too easily amended to 'City of Leaks'. (Yes, I know. My humour has never been politically correct.)
Where to stay
Although there are a fair number of places to stay around Satpura, in my opinion only 3 of them are worth considering.
This is because of 2 key factors: the accommodation itself and the quality of the naturalists at the lodges. Naturalist (no Dear don't get excited, I said naturalist, not naturist) is the term used in India for the guides that accompany you on game drives and walks. The 3 places I'd recommend are: Forsyth Lodge, Reni Pani and Denwa Backwater Escape.
I'd rate Forsyth Lodge as the best, although Reni Pani is the most expensive and Denwa has a terrific location overlooking the river.
Game drives & walks
The diverse terrain and the Tawa Reservoir give Satpura an edge over other parks where the only option is game drives by jeep. It is one of the few parks where you can walk inside the park itself and for birders this is a huge boon.
Under normal circumstances taking a boat or canoe onto the water is a great way to see bird life and crocodiles. In 2018, the waters were very low indeed due to poor rainfall in 2017. A combination of the need for water to irrigate farms upstream and water being let out through the Tawa dam for hydro power created a situation where for the first time ever you could walk across the river into the park; usually this involves a short boat trip.
Wildlife viewing activities are as follows:
Game drives by jeep – available in morning and late afternoon
Dusk Drive – These take place in the buffer area, not the core reserve. You still need a Forest Guide to accompany you but you can stay out until around 8pm. This is very useful when looking for species like Leopard, Sloth Bear and Tiger which tend to become active around dusk.
Full day game drive – Essentially this is a morning and an afternoon drive, but instead of returning to your lodge you remain in the park. However, between 11am and 3pm you cannot drive around, but must remain at the Government Rest House at Churna. The big advantage of doing this is that you get to venture beyond the main tourist zone and will hardly see any other vehicles or tourists for the entire day. The rest house at Churna is located by a stream and the birdlife there is excellent.
All jeep based activities must be booked in advance as only a limited number of jeeps are allowed into the park each day.
The way it works is that you leave your lodge accompanied by your naturalist. He drives you to the park entry point. Here you pick up a Forest Department Guide. You then cross over the river into the park (by boat or on foot) and meet up with your vehicle and driver.
The jeeps being used in the park were actually donated by the three lodges I listed earlier. The original intention when they donated them was to have their own vehicles located inside the park which would be driven by their own naturalists. The Forest Department saw an opportunity to create more employment and increase their control and decided that only their own drivers could be used.
Note: All National Parks in India come under the jurisdiction of the Forest Department.
Apart from the fact that you now have 2 extra people in your jeep, the main disadvantage of this system is that responsibility for maintaining the jeeps lies with the Forest Department. So whilst the jeeps looked after by your lodge will be well maintained, the ones used inside the park are not so well looked after.
Game Walks – Walks can be done both inside the park itself or within the buffer zone. A Forest Guide must accompany all tourists who are walking, whether inside the reserve or in the buffer area.
Canoeing – When water levels allow.
The drives and walks that we did were all enjoyable and we saw an excellent diversity of species.
Other Stuff
Human – Wildlife Conflict
As with all places where wildlife and humans come into contact, there is some friction. The buffer area around each Tiger Reserve is intended to assuage this.
There is in place a government compensation scheme to pay farmers and villagers for any livestock lost to predators. This makes sense, but as with many things in India it gets bogged down in bureaucracy and the compensation payments can take a long time to come through.
What the 3 lodges have done (it is always the same 3 lodges as they are really the only ones run on a professional basis to an international standard) is to fast track the compensation. If livestock is lost they pay compensation immediately to the farmer and then when he finally gets his payment from the government scheme he reimburses the lodges.
VIPs
There is one rider to the limit on the number of vehicles that can enter the park; it does not apply to VIPs. They seem to be able to come and go where they want and when they want. This means that you will sometimes see vehicles in places where you were told there wouldn't be any. Also, on more than one occasion we witnessed situations where local bigwigs used their position to extort free services from the lodges.
We came back from a game drive one evening to find 3 police cars at the lodge, and a number of officers in their finest uniforms. It turned out that the local police chief had decided that he wanted to come and stay at the lodge. He turned up with his family and demanded accommodation. Of course he was not going to pay. I asked them why they tolerated this and they said that if they refused him he could make their lives very difficult indeed, just by delaying licences & permits and by carrying out inspections designed to cause disruption to the running of the lodge.
On another occasion we were told that we could not use a government guest house for our lunch stop – except the toilets – because some local big nob was coming for lunch and they wanted to keep the place free for him and his party. We were in the area for over 3 hours and he just turned up when we were getting ready to leave.
Tiger Obsession
One thing you need to get used to when visiting wildlife reserves in India is that Indian tourists will outnumber international visitors by 20 or 30 to 1, probably even more. And the only thing that most of them want to see is a tiger. So they congregate at any place where a tiger has been sighted or is likely to be sighted. They all talk no-stop so that it sounds like a market place and then they are urging their drivers to move back & forth to get a better position. It is a circus.
We found it far better to stay away from the circus and use our time in the reserve to look at other animals and the amazing birdlife. We then used game walks and dusk drives in the buffer zone to look for tigers.