Tailor Made for you
It is almost impossible to discover all that India has to offer in just one visit.
Quite apart from the vibrant colours and amazing architecture of the cities, there are so many National Parks and wildlife reserves to choose from. Our map shows just a few of the more popular ones.
With such a vast array of possibilities, deciding which part of India to visit and which places to include in your wildlife safari can be quite a daunting task.
That's where we come in.
Our team have visited most corners of this amazing country and – at last count – 26 of the National Parks & Reserves. 
We're ready and waiting to help you design a fantastic safari.
You decide where you're like to go and we'll take care of all the bits in between – the accommodation,  game drives, transfers, internal flights, trains etc.
Just click on the link below and tell us about the kind of experience you are seeking.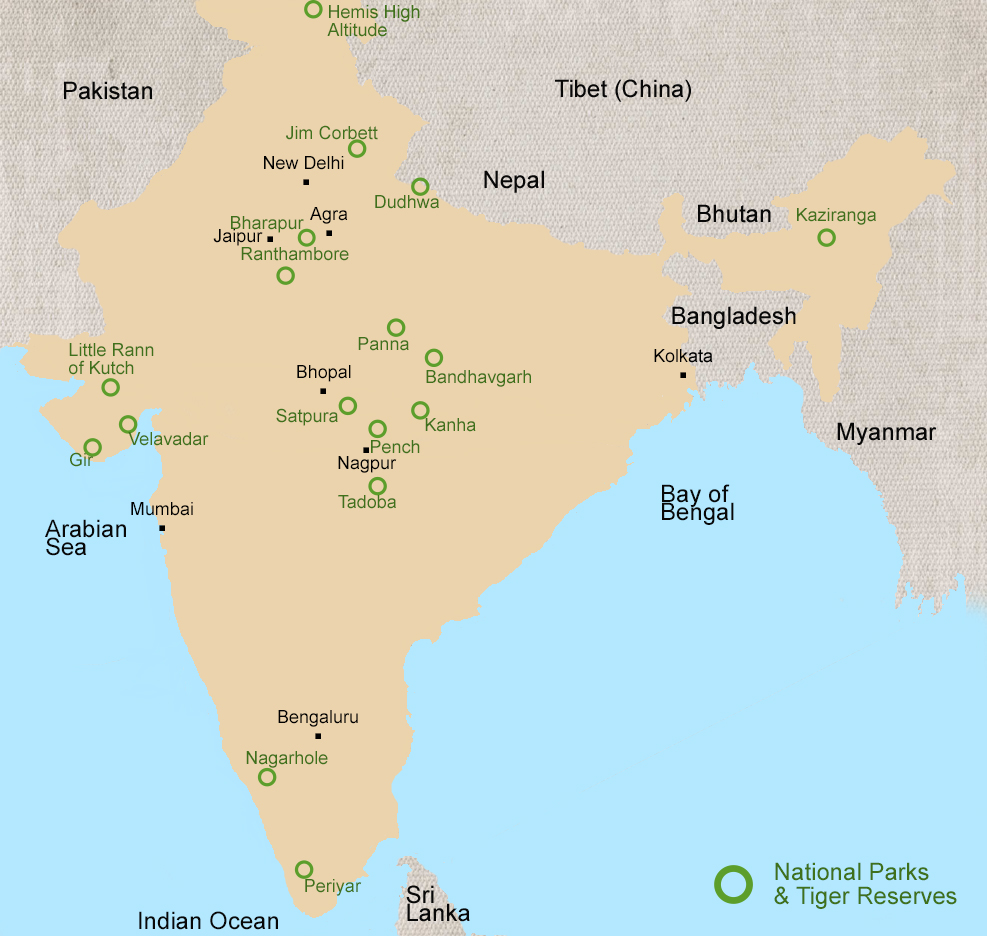 An Introduction to the Indian Wilderness
12 nights / 13 days
Commencing: 16 Feb 2019
Personally escorted by Martin Dunn, this safari promises to be a real treat for wildlife photographers, especially keen birders, and is designed to showcase the diversity of bird and wildlife in North & Central India.
To do this, we've chosen two of the best Tiger Sanctuaries, Corbett Tiger Reserve and Satpura Tiger Reserve; allowing us to showcase not just the wildlife but a wonderful cross section of the habitats to be found in India.
In Search of the Bengal Tiger
5 nights / 6 days
Commencing: 07 Oct 2018
India is home to the highest diversity of wildcats in the world including the Royal Bengal Tiger. The WWF estimated the global tiger population to be just 3,890, of which 2,200 are in India. 
This makes India the best destination in the world to view this majestic big cat in its natural habitat.
Central India is not just home to tigers but also the Indian leopard, jungle cat, rusty spotted cat (world's smallest wild cat), dhole (Asiatic wild dogs), striped hyena, golden jackal, sloth bear, four species of deer, three species of antelopes and close to 350 species of birds.
Wildcats of India
10 nights / 11 days
Commencing: 20 Oct 2018 & 23 Mar 2019
India is home to the highest diversity of wildcats in the world, surpassing even the number of wildcat species found in the continent of Africa.
There are 37 species of wildcats found in the world and of these India is home to 15 species.
These are the ones we'll be looking for:
Bengal Tiger
Indian Leopard
Melanistic Leopard (Black Panther)
Jungle Cat
Rusty Spotted Cat – the world's smallest wildcat
Jungles of Central India
6 nights / 7 days
Commencing 07 Nov 2018 & 25 Apr 2019
This is Jungle Book country.
Central India offers a diversity of experiences unrivalled on the sub-continent; home to species like Tiger, Leopard, Sloth Bear, Dhole (Indian wild dogs) and Gaur (Indian Bison) as well as over 350 bird species.
Birding in Corbett Valley
8 nights / 9 days
Commencing: 09 Feb 2019
India boasts of about 1250 species of birds, including migratory species that travel here from all over the world. About 600 of these can be found in the Corbett valley in the foothills of the Himalayas.
Highlights in the region are:
Hornbills: 3 species 
Kingfishers: 5 species
Woodpeckers: more than 7 species
Owls & Owlets: at least 7 species
Vultures: 5 species
Raptors: more than 11 species
Riverine Birds include: Great Cormorant, Darter, Ruddy Shelduck, Bar-headed Goose, Greylag Goose, Grey Heron, Black Stork, Woolly-necked Stork, Grey Heron, Night Heron, Black Ibis, Black-headed White Ibis and Ibisbill
Forest Birds include: Dollar Bird, Green Magpie, Red-billed Blue Magpie, Long-tailed Broadbill as well as a variety of Thrushes & Starlings
Grassland Birds: Variety of Bulbuls, Bushchats, Stonechat, Bee-eaters, Shrikes, Warblers, Weaver Bird, Munias, Red JungleFowl, Khaleej Pheasant, Ioras & flycatchers
Snow Leopard Expedition
10 nights / 11 days
Commencing 31 Dec 2019
Ladakh (part of Jammu & Kashmir) is home to exceptional wildlife. This diversity is a result of the unique landscape and the weather conditions in the region. The fauna of Ladakh has much in common with that of the Tibetan Plateau.
For such an arid area, Ladakh has a great diversity of birds with many migrating from hotter parts of India to spend the summer here. A total of 225 species have been recorded.
Ladakh is one of the best places to see the elusive Snow Leopard.
Other mammal species to look out for are Brown Bear, Tibetan Wolf, Eurasian Lynx, Weasels, Tibetan Fox, Ibex, Bharal (Blue Sheep) and yak.
Highlands of Central India
6 nights / 7 days
Commencing 07 Mar 2019
Satpura Tiger Reserve in Central India today offers one of the most diverse wilderness experiences in the country.
The 1,427 km sq of Satpura Tiger Reserve is largely hilly, veined by a number of streams and water courses that have gouged deep ravines in the land.
This is a terrain that perfectly suits the reclusive habits of most predators. Today it is the only park in the country that lets you explore its boundless riches through walking safaris, canoe safaris, jeep drives as well as night drives. It also offers the option of camping in the buffer forest. 
Lions & Wolves
9 nights / 10 days
Commencing: 02 Dec 2018 
Western India is the more arid part of India with diverse landscapes – ranging from dry deciduous forests to savanna grassland to huge flat saltpans – an ideal habitat for lions, leopards, jungle cats, desert cats, Indian wolf, striped hyena, Asiatic wild ass and the sloth bear.
We visit 3 parks in Gujarat:
Gir National Park
Blackbuck Wildlife Sanctuary – Velavadar
Wild Ass Sanctuary – Little Rann of Kutch
As well as key mammal species mentioned above the birding is excellent.
Ranthambhore – Tigers Guaranteed
5 nights / 6 days
On request
To ensure we achieve our stated aim of guaranteeing that you will see a tiger we have selected Ranthambhore Tiger Reserve. 
Renowned for the frequency of tigers sightings enjoyed by visitors, Ranthambhore is a very popular park. To reduce the concentration of tourists in any one region of the park it has been sub-divided into 10 zones. The number of vehicles allowed into each zone is restricted. 
New permits, only introduced within the last 2 years, are now available that allow a small number of jeeps to spend either the whole day or a half day inside the park with no zone restrictions.
Our safari makes use of these new permits to give you two and a half days of game viewing without zone restrictions and we are so confident that you'll see tigers that we'll guarantee it. If you don't, we'll refund 50% of the tour price.
Tigers and the Taj
12 nights / 13 days
On request
Combining 2 of India's most beautiful tiger reserves with a visit to the country's most iconic historical site, this itinerary is a real treat for wildlife lovers.
To make the most from your time in Ranthambhore and Satpura you'll enjoy a full day safari in each reserve; giving you the opportunity to get away from the busy tourist areas and enjoy quality sightings.
Also included is a stay in the National Chambal Sanctuary; a 1235 km sq area by the river Chambal where you will find great bird life. Chambal is also one of the last remianing habitats of the Ganges River Dolphin.
Corbett
Satpura
Pench
Kanha
Tadoba Andhari
Kabini
Gujurat
Ladakh
Jaipur
Chambal
Ranthambhore
Corbett
Satpura
Pench
Kanha
Tadoba Andhari
Kabini
Gujurat
Ladakh
Jaipur
Chambal
Ranthambhore