The drive from Kaziranga to Manas was longer than expected, over 6 hours, with the final few kilometres being some very rough roads that brought our car to a crawl as we weaved around yawning potholes.
In complete contrast to Kaziranga, which could entered just off the main highway, Manas is tucked well away, some distance from the highway and with almost no signage until you get very close. Our driver had clearly never been there before and was using a navigation app on his phone to get us there. Even then he was not entirely confident and was very relieved when he saw a sign for the park and even more relieved when there was a sign for our accommodation.
For the last couple of kilometres our route was lined with tea estates where tea pluckers were hard at work.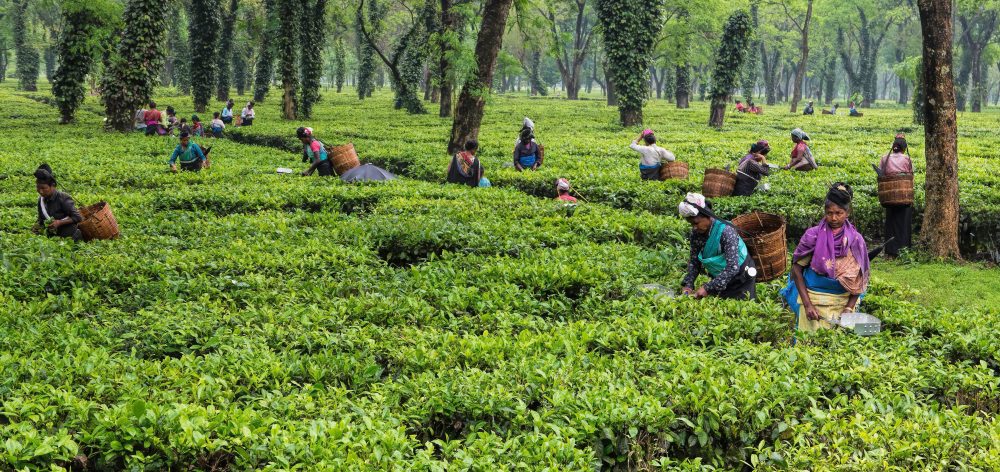 Our accommodation, at Musa Jungle Retreat, (I cannot give you a link to their website as my anti-virus program suggests it may be unsafe to visit) was just 200 metres from the entrance gate. Unfortunately, because we had underestimated how long the drive would take us – my fault for not checking – we arrived too late for our afternoon drive into the park. That meant we had plenty of time to settle into our room, which was spacious.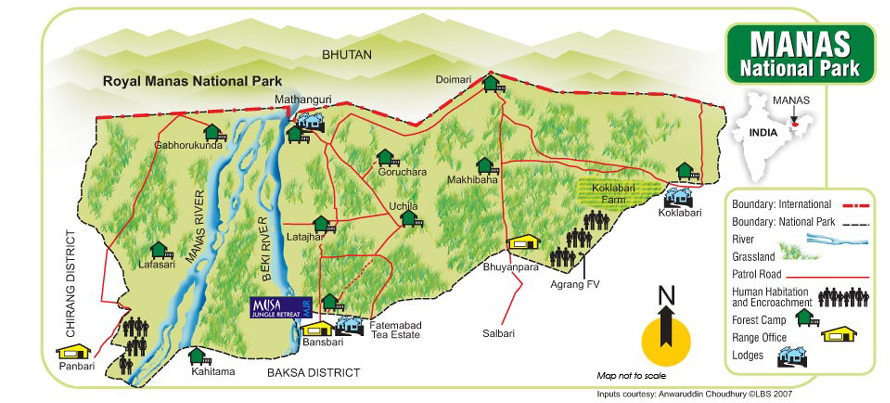 Later in the afternoon we took a walk down the road to see the tea pluckers in action. We'd left it a bit late and they had already finished and were making their way home. No matter, they'd be back again tomorrow.
Our accommodation at Musa was perfectly adequate. The cottages were a decent size and the dining room was set on the first floor so we had views into the park while we ate.
Of the 20 cottages, perhaps 5 were occupied when we arrived.
Dining at Musa was a bit different. Unlike the other places we stayed there was no set meal time and no buffet laid out, we were simply given a menu and asked to choose what we wanted.
The menu was extensive, with lots of Indian dishes and lots of Chinese dishes. Everything we ordered was freshly cooked and very good.
The retreat did not serve alcohol, in fact we only ever saw people drinking water or tea.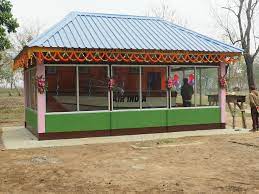 Next morning, we'd been told our guide would be there at 6am, and he was. So we set off into the park.
Just inside the gate was a bizarre sight; a small building containing a boat with Air India written on the side. Beside the building was a sign telling us about Edmund Hillary's Ocean to Sky expedition.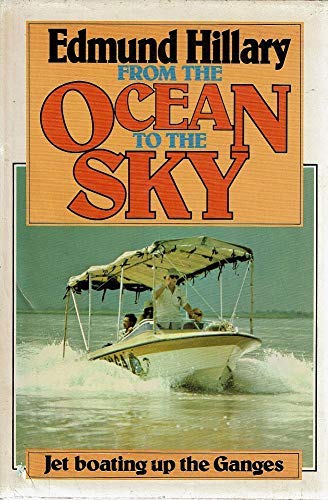 In 1977 Hillary led Ocean to the Sky, an expedition to the source of India's sacred Ganges River. Ed, his son, Peter, Graeme Dingle and others used New Zealand-made Hamilton jet boats to travel from the mouth of the Ganges high up into the Himalayas through deep gorges and thunderous rapids. The party subsequent climbed to an unnamed peak, which they called Akash Parbat (Sky Peak). If you're interested you can read Hillary's book on the expedition.
In complete contrast to Kaziranga, Manas is largely made up of dense jungle and our first morning in Manas was very overcast. Hence it was not at all good for photography. In fact it was not at all good for much as trying to pick wildlife out amongst the dense dark foliage was a real challenge. It became even more of a challenge when the sky darkened and the heavens opened.
Hunched up under a leaky canopy we made our way back to the lodge. Whilst they are great for game viewing with the canopy off, when it is on, visibility is zero and space is severely limited.
On that drive I only took 1 photo, of an Emerald Dove, which I subsequently deleted because it was so poor.
Manas NP was certainly different.
The UNESCO description of the park doesn't really tell you what it will be like on the ground.
"Manas Wildlife Sanctuary is located in the State of Assam in North-East India, a biodiversity hotspot. Covering an area of 39,100 hectares, it spans the Manas river and is bounded to the north by the forests of Bhutan. The Manas Wildlife Sanctuary is part of the core zone of the 283,700 hectares Manas Tiger Reserve, and lies alongside the shifting river channels of the Manas River. The site's scenic beauty includes a range of forested hills, alluvial grasslands and tropical evergreen forests. The site provides critical and viable habitats for rare and endangered species, including tiger, greater one-horned rhino, swamp deer, pygmy hog and Bengal florican. Manas has exceptional importance within the Indian sub-continent's protected areas, as one of the most significant remaining natural areas in the region, where sizeable populations of a large number of threatened species continue to survive. "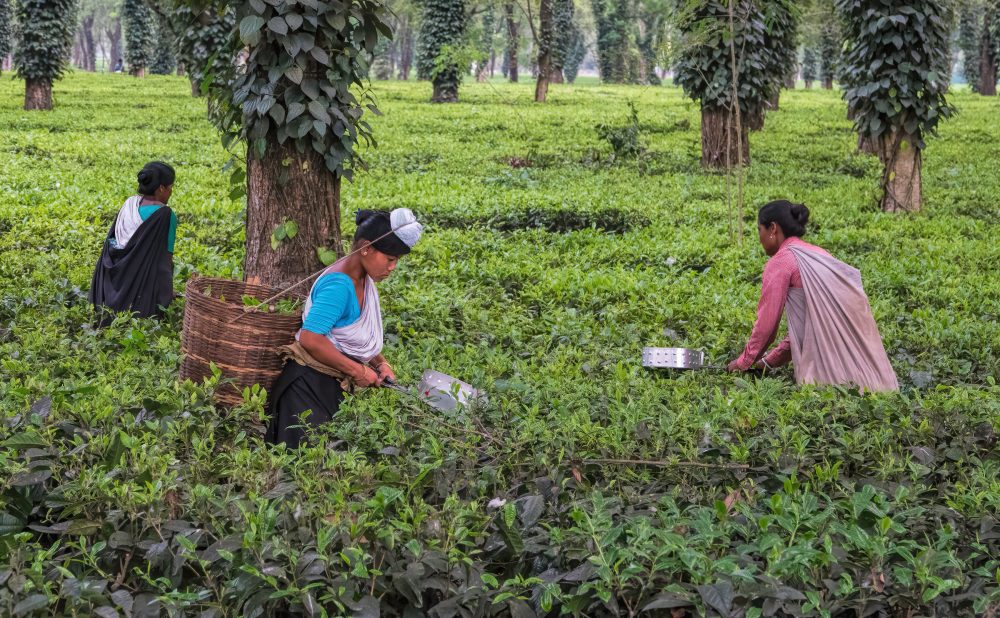 After having our first morning cut short by rain, we did not know what to expect in the afternoon. Luckily the tracks through the park were mostly gravel, so even after the rain they were passable, just with a lot of pooled water.
As we drove the weather brightened up a bit, but we had still seen nothing to photograph. It was not until we got to the border with Bhutan that I took my first photo – what else could it be but a Bulbul.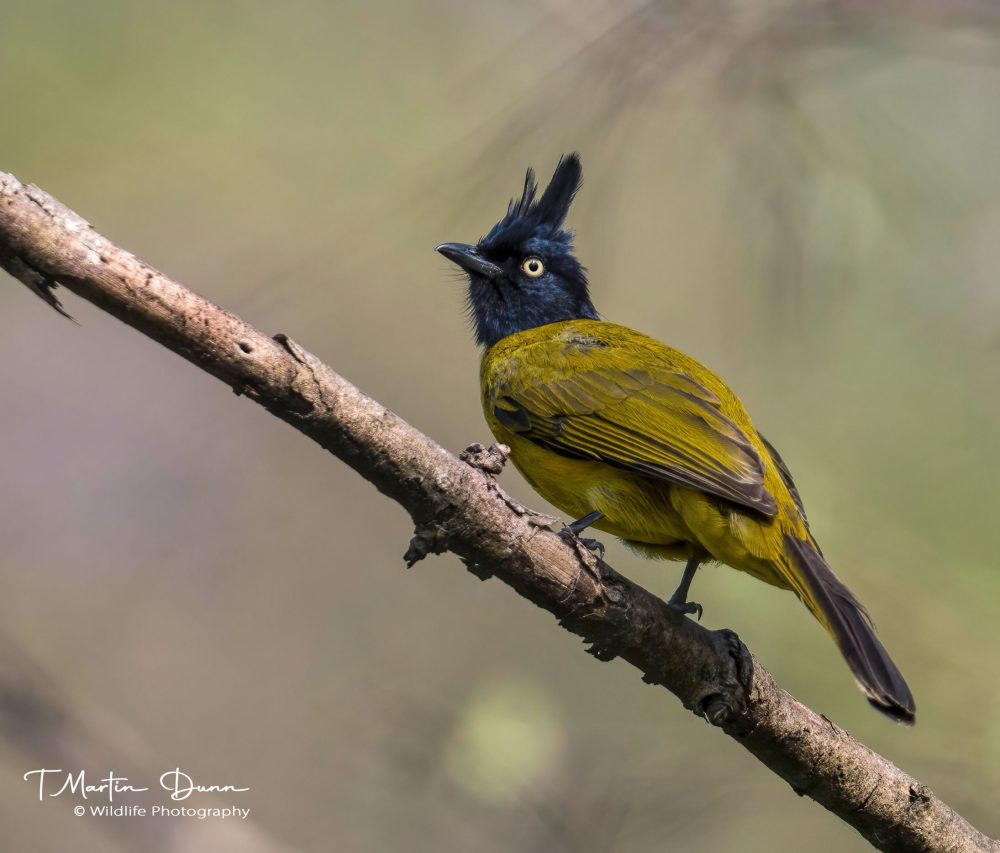 If you are after something a bit more active than sitting in a jeep, the Beki river, which runs from the mountains of Bhutan through the park, offers a 2.5 hour river rafting experience, from Mathanaguri to Bansbari. If (when) I return to Manas this is something I will try to fit in.
There were a lot more vehicles in the park today, it was a Saturday, but apart from having to pull over to let them pass us, it was not a problem. They all drove slowly (not as slow as us, but still pretty slow) and there was no dust.
Apart from 1 other vehicle, none of the occupants seemed interested in birdlife, they all wanted to see elephants & rhinos and showed little curiosity about why we were staring into the trees.
Clearly a dry game drive was much more enjoyable than a wet one, but we still had not seen much at all, certainly nothing to live up to Manas' billing as one of India's top birding locations.
What would tomorrow bring?
Well, it brought intermittently sunny weather, which was very welcome, though the jungle was still very dense and dark.
This was, without doubt, the toughest place I have ever tried to take bird photos. They rarely emerged from the shadows onto open perches and they refused to stay still. Clearly they had not read the briefing.
Our guide and driver worked well together. The driver, as far as we could tell, is employed by the lodge, whilst the guide is freelance.
Both of them, the driver in particular, had phenomenal eyesight. The guide certainly knew his birds and whilst the driver could spot them he did not always know what they were called.
The problem came when they tried to explain to us exactly where the bird they'd spotted was located.
The other issue seemed to be that whilst Manas attracts many birders, not all of them want photos so it took a while to get them to understand that we didn't just want to see them and tick them off, we wanted photos.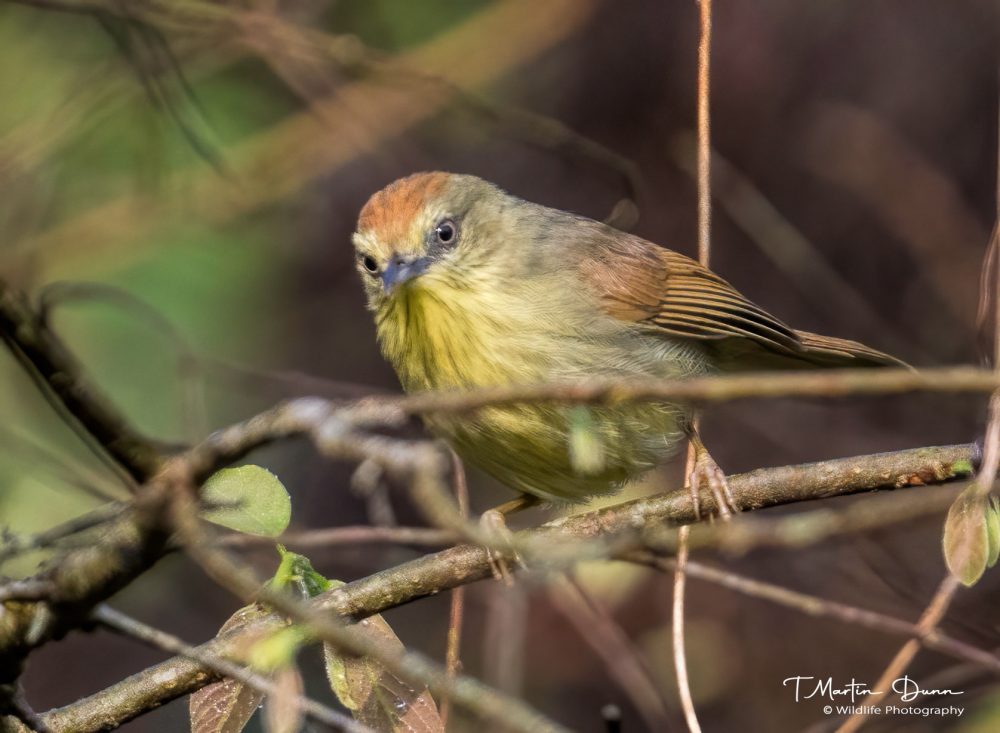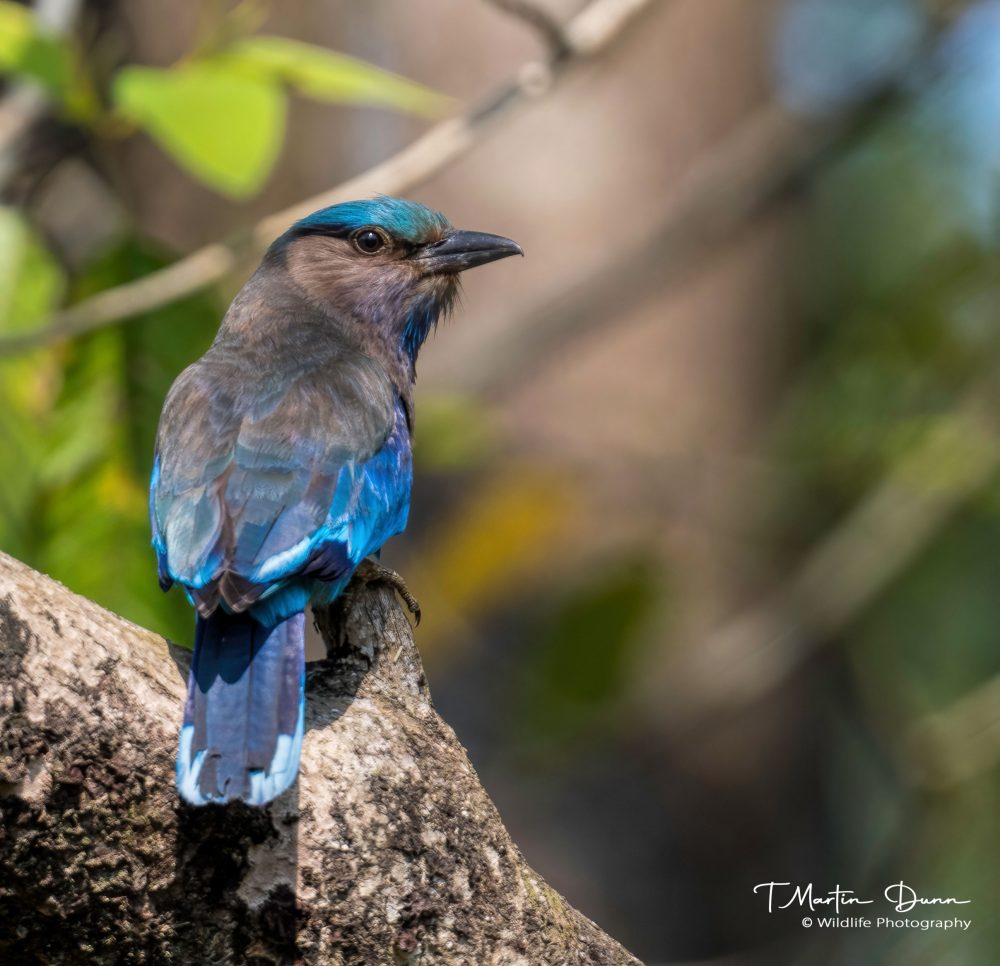 To be honest, we did not see a large number of species at Manas, but many of the ones we did see were lifers.
I got quite excited when we found a Long-tailed Broadbill nest hanging 10 metres from the track but even though we waited quite a while we did not see the bird.
We had better luck with Silver-breasted Broadbill though. We saw 3 different nests and 2 of them had birds actively nest-building. They were too busy to pose for photos though; always moving and always behind foliage.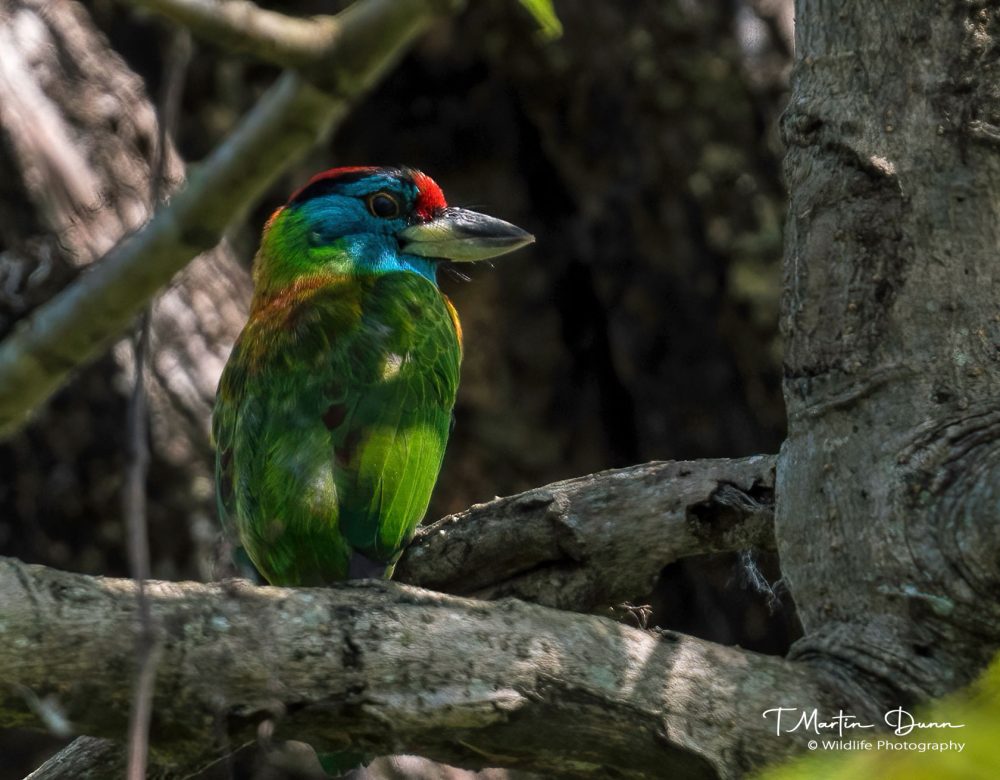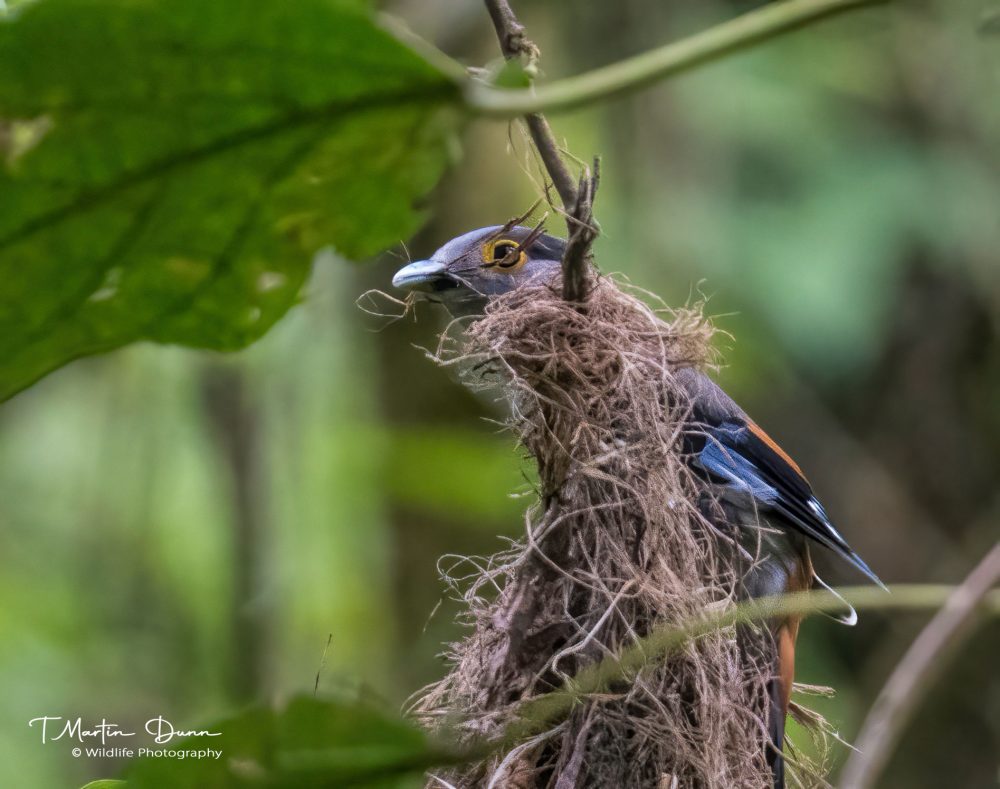 Amazingly, the weather held for the whole day and our afternoon drive also enjoyed decent weather. The sky was blue and the air was wonderfully clear.
I would have loved to go back and sit near the Broadbill nests but I did not have the only vote and my travelling companions wanted to get out of the jungle onto the plains where they could see some of the larger mammals.
In addition to the elephants, rhino and buffalo, Manas NP also has Indian Gaur and so this afternoon we went looking for them. It seemed only fair; we'd spent 3 drives peering into the undergrowth for birds so it was time to spend some time on the grasslands.
Of course when we spotted birds we stopped.
We didn't manage to find any Gaur, though we did see plenty of elephants and right at the end of the day there was a special treat.
We drove to one of the many watchtowers that are built above ranger posts and anti-poaching posts and looked out over the grasslands. About 200 metres away we saw a black & white speck. A Bengal Florican.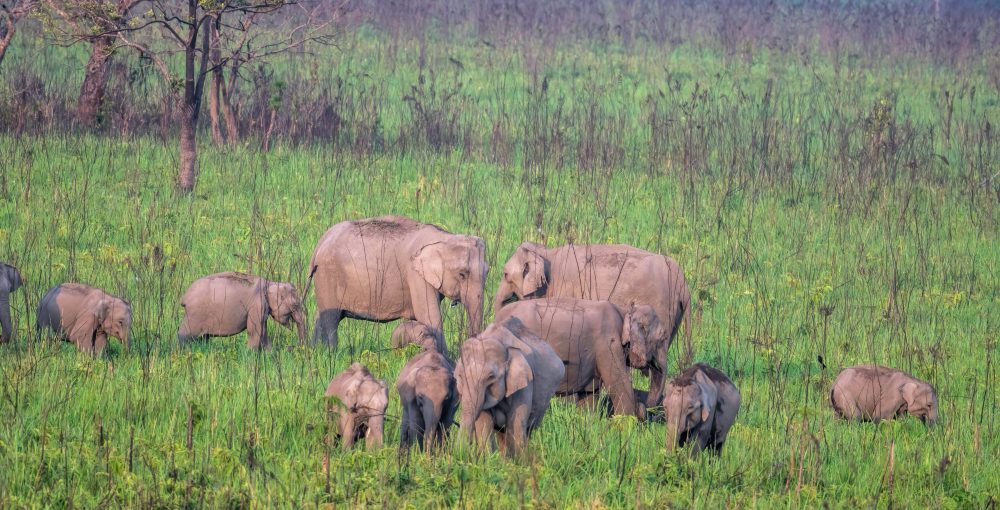 Tomorrow morning would be our last drive and it was agreed that we would not drive very far, just to the area where we'd seen the Broadbills to try for better photos.
Well, that was the plan.
It started raining during the night and continued pretty much up until a very grey dawn.
We made the decision to abandon the morning drive as the light was awful and we doubted we'd see much.
A good decision as it turned out, because at about 7am it started raining again and did not let up for hours.
To be truthful, Manas NP had been disappointing. BUT, I think that was largely due to very bad luck with the weather. The end of March/beginning of April is supposed to be dry and sunny. In fact guidebooks to Manas warn about the likelihood of game drives being very dusty. That was not our experience at all.
I would go again though, as long as the chances of fair weather were high; I'd seen enough of the birdlife to convince me there was a lot more to be seen.
With our minds now on the journey to Guwahati, where we'd catch our flight to New Delhi, I asked at reception how long it would take us to drive to Guwahati and was told 3 hours, possibly 3.5, so I asked our driver to be ready to go at midday.
After the heavy rain he thought it might take us at least an hour longer, and he wanted to leave earlier.
We left just after 11, it took us exactly 3 hours. We concluded that he just wanted to get back to his own home as soon as possible.
Overall, though our trip had not really lived up to our hopes in terms of wildlife, it was certainly a trip of great contrasts and we saw a very different side of India to more commonly visited regions like Rajasthan and Central India.
The laid back pace of Kaziranga and Manas made the trip far more relaxing than we'd expected and the clean air was wonderful.