The Sundarbans is an area that has long appealed to me and finally I was getting the chance to visit. Touted as the National Park with the highest number of tigers in India it is also listed among India' top birding locations, so I had high hopes.
The drive from Kolkata to Godkhali where we'd be boarding a boat to take us to our lodge, was just 101km, but it took us 3.5 hours. Averaging little more than 30kmph the journey was excruciating as we navigated our way through endless congested towns; with the road running through the middle, rather than around the central area.
On a rare occasion when we were not surrounded by bustling towns we saw extensive fish farms on one side of the road and endless brickworks on the other. I had hoped that the drive would shown us a glimpse of rural West Bengal; well I guess it did, but it was probably the least enjoyable journey I've ever taken in India; due in no small part to a very poor driver.
From the jetty at Godkhali the boat ride to Sundarban Tiger Camp takes a little over 2 hours.
The boats used for tourists are rather different to those used to ferry the locals across.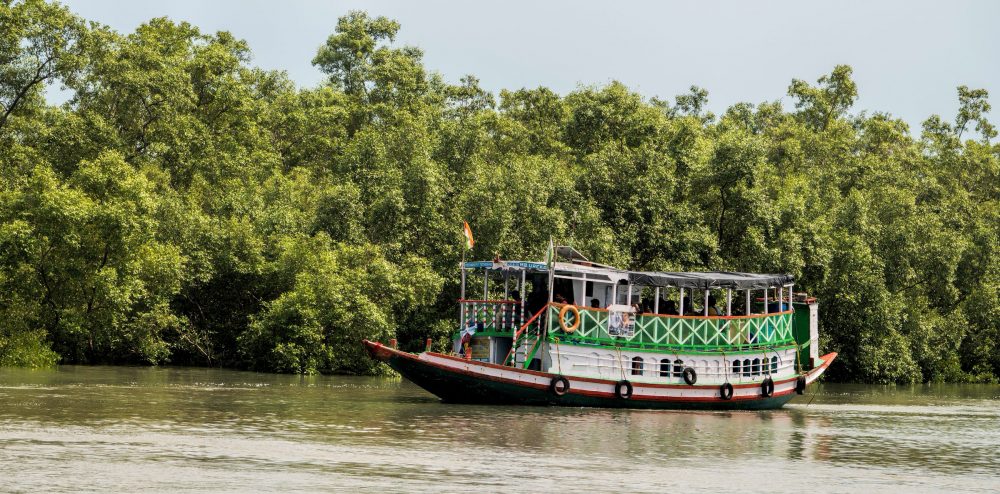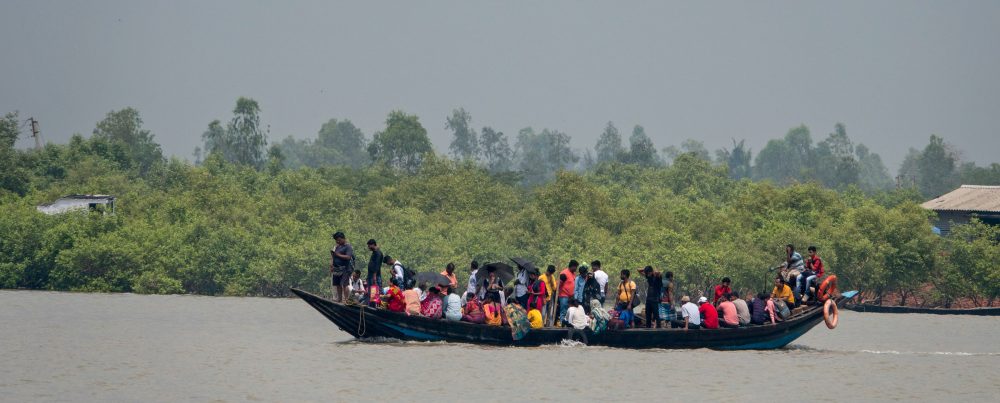 The boat ride gave us our first look at this unique habitat.
The Sundarbans is a mangrove area in the delta formed by the confluence of the Padma, Brahmaputra and Meghna rivers in the Bay of Bengal. Covering areas of Bangladesh and India the Sundarbans is the largest mangrove forest in the World.
India's Sundarban National Park is one of 4 protected UNESCO World Heritage sites within the Sundarbans (the other 3 are in Bangladesh); in 1973, they were declared a tiger reserve under Project Tiger and upgraded to the status of a national park in 1978. It was designated as a UNESCO World Heritage site in 1985.
The National Park is located on one side of the waterway and local villages on the other. Tigers are apparently perfectly capable of swimming across, although a fence has been erected along the water's edge on the park side to try to contain them.
The local enterprises are: fishing, prawn fishing, crab collecting and honey collecting; all of them carry an element of danger, with attacks possible by tigers and saltwater crocodiles, and a lot of them are carried out illegally with locals encroaching into the park.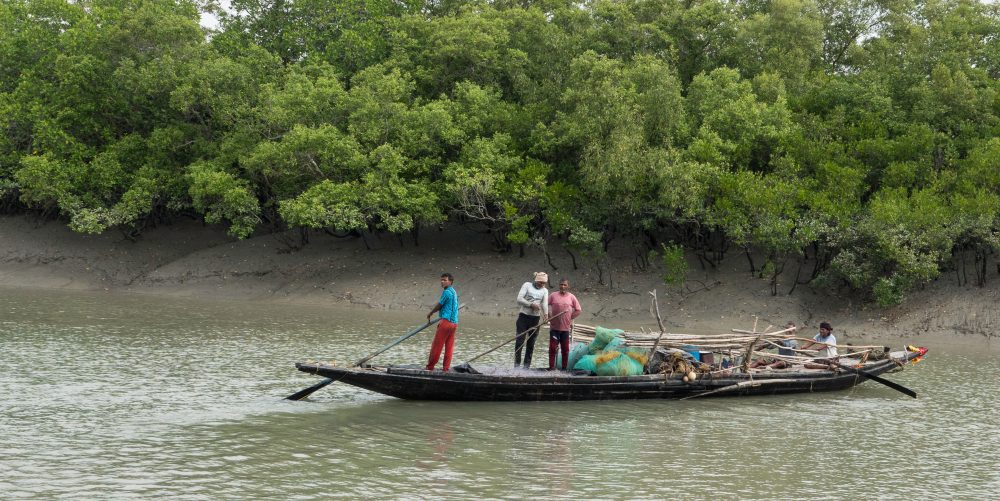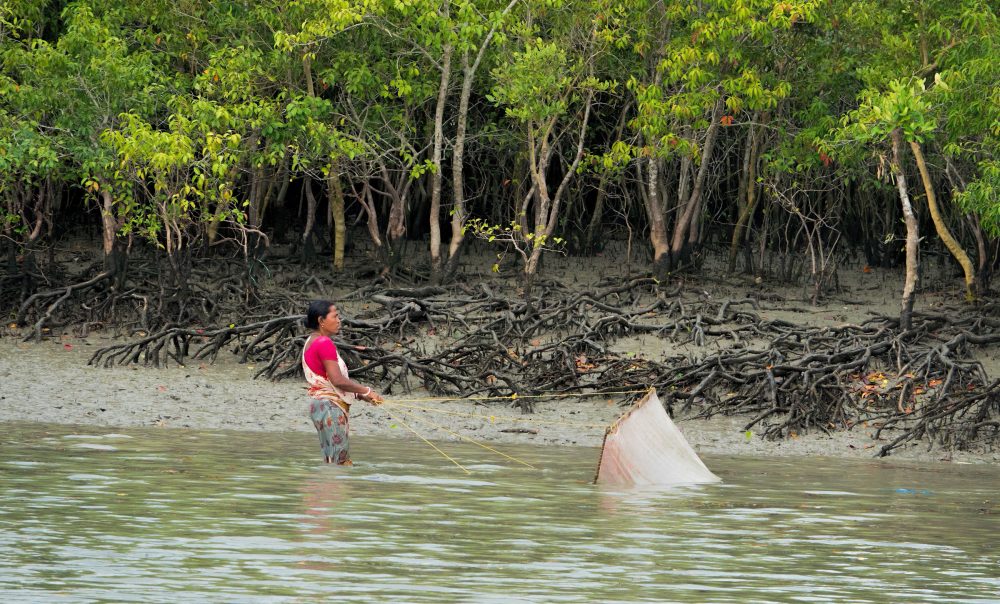 The camp guide suggested that after we had settled in we could go for a birding cruise. Well why not?
The 'birding' cruise was a good indicator of what was to follow. We cruised slowly along, following the shoreline. With the tide out, there was a wide expanse of mud flats between us and the mangrove forest. Yet, strangely, there were almost no birds at all on the mud flats. No waders, no shore birds. We did see both Collared and Black-capped Kingfishers, but they were perched on poles quite some distance away and the photos I took were swiftly discarded.
Our room at Sundarban Tiger Camp was spacious and comfortable, although we were surprised to find that the shower produced only cold water. There was hot water, but to use it for washing meant filling a bucket.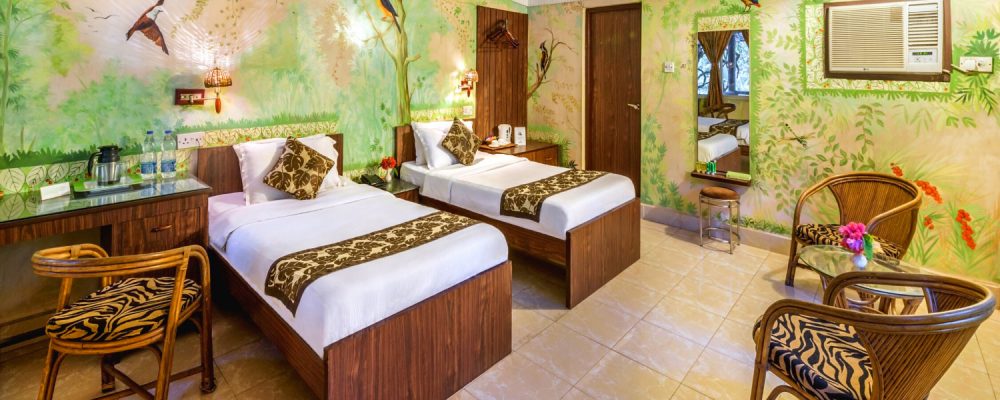 Not quite as the blurb describes it:
Sunderban Tiger Camp has 21 uniquely crafted rooms that offer breathtaking views of the lagoon and the picturesque resort landscape. Our spacious rooms were designed with a focus on comfort, art and relevance to the local culture and history. The interiors have been painted by local artists and the furniture has been made by local craftsmen using local materials (where possible).
Our restaurant, The Fisherman's Wharf, serves a selection of local and international cuisine (on request) and utilises locally sourced ingredients as much as possible. In the evenings, guest can enjoy a sundowner at the Gol Ghar bar.
Our cottage was surrounded by lush gardens – as were all of them – so there were no views of the lagoon from any of the rooms. The Gol Ghar bar may once have been a place for sundowners but it now seem to have been taken over by the camp's staff as their gathering place and Fisherman's Wharf, the restaurant was spectacularly uninspiring. The food was OK, but pretty ordinary and the dining area completely lacked atmosphere, although the beers were impressively cheap. A few birds regularly visited the area beside the restaurant to feed on bits of fruit put out by the staff.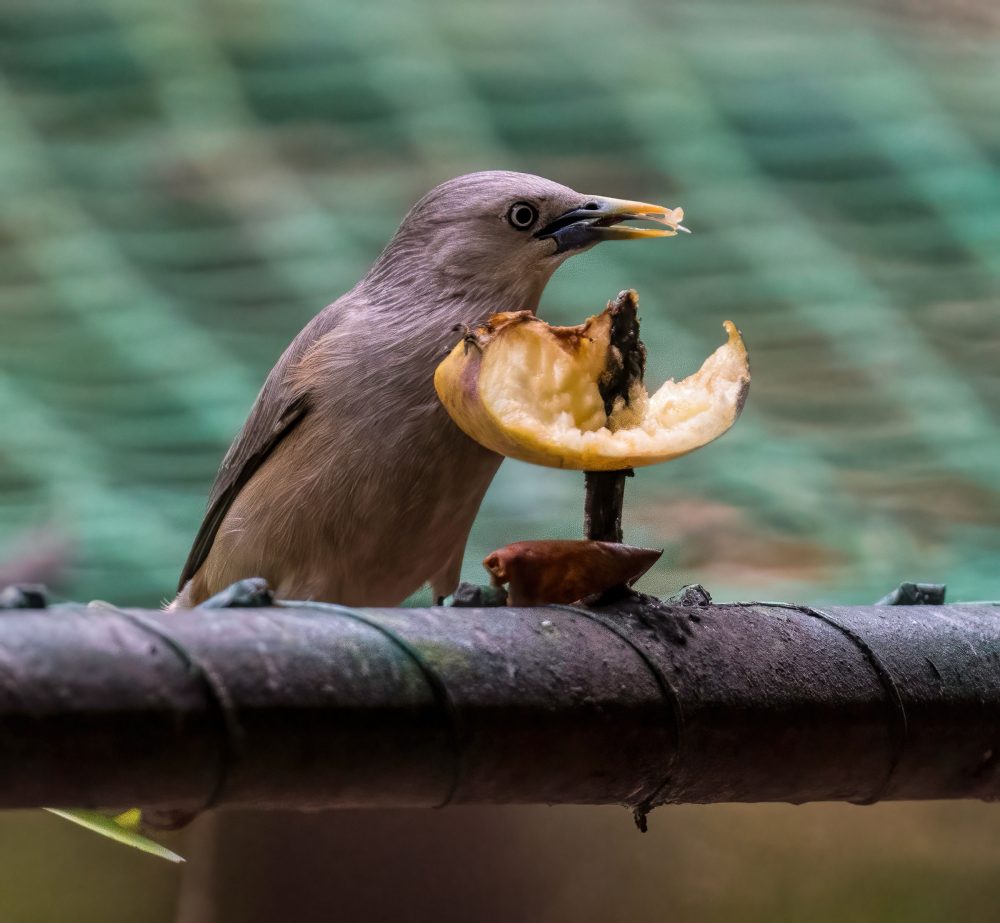 Next morning we were due to set out early and spend the whole day on the boat, exploring the channels further south, towards the Bay of Bengal.
As we emerged from our cottage we could see that the camp, and river, were shrouded in thick fog; which fortunately cleared pretty quickly.
Our boat travelled slowly, probably no more than 4kmph, about the same speed as a narrowboat on one of UKs canals. The main reason for this was to minimise erosion of the banks, which we could see were crumbling away in places.
Our 10 hours on the river meant that we would see both high and low tides, so we had high hopes of some good sightings and as we cruised we imagined tigers emerging from the mangrove forest and coming to the river to drink.
Apparently the most likely time to see tigers is at low tide, which is also the best time for birdlife.
Well, there was precious little birdlife on the muddy banks and the only mammals we saw were a couple of spotted deer, some rhesus macaque and a few capped langurs.
It quickly became clear that the odds were stacked heavily against us; the chances of our being in the right spot when a tiger emerged from the endless expanse of mangroves were very slim indeed.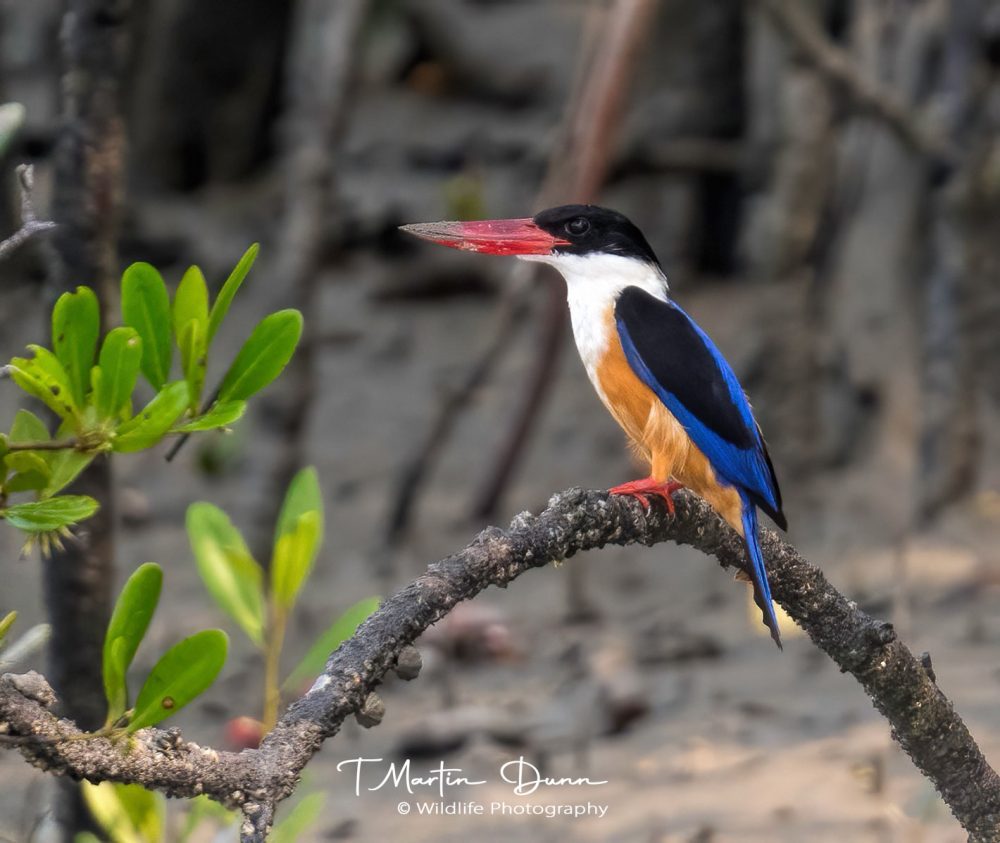 Luckily, Kingfishers were abundant along the waterways and other opportunities presented themselves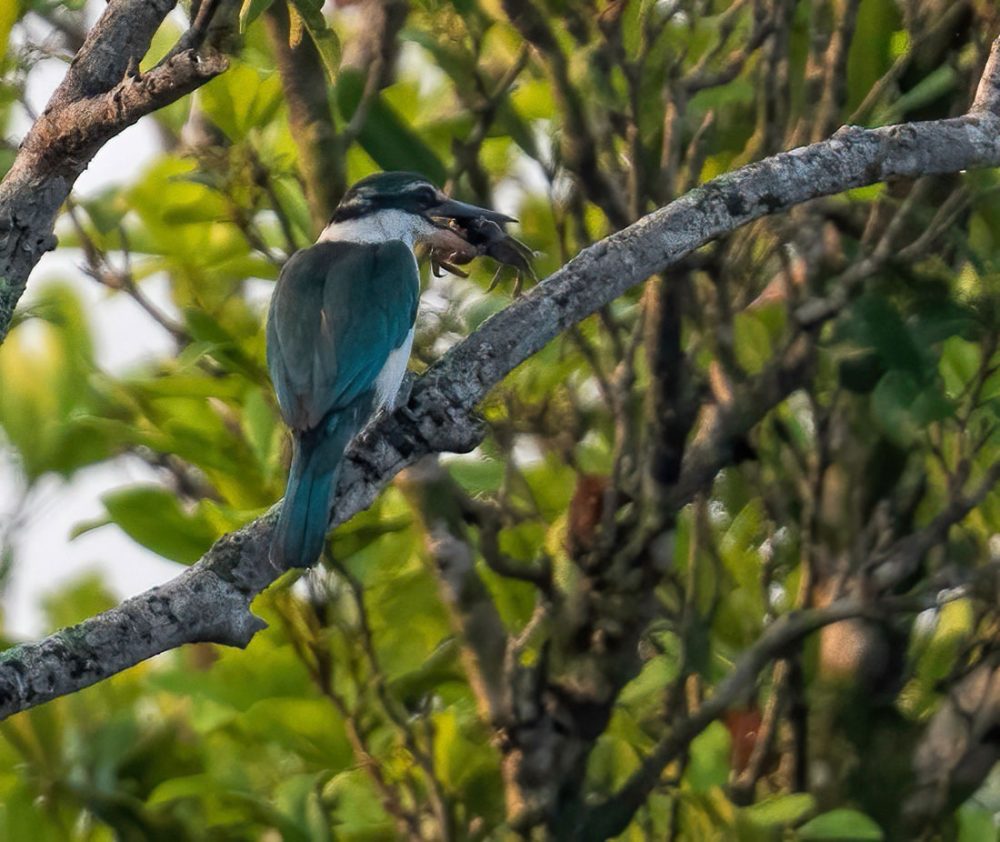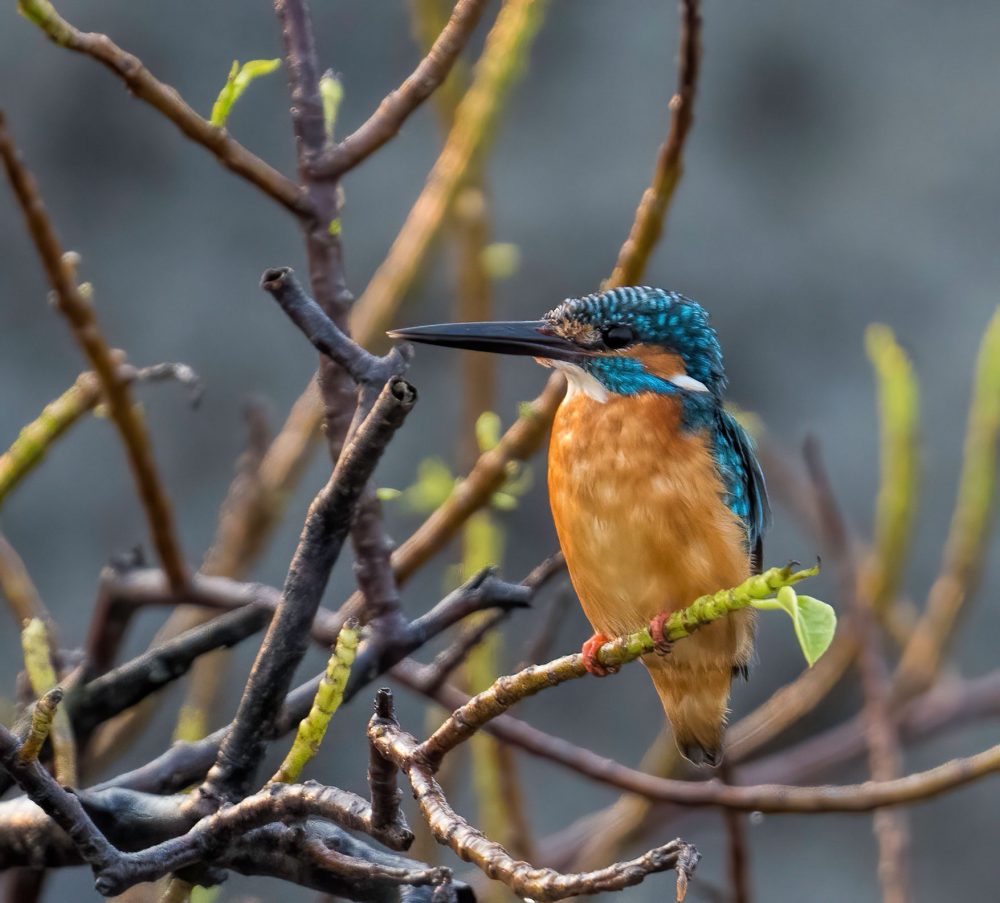 We'd been told that there could be as many as 400 boats on the waterways so we'd expected to find ourselves in some kind of regatta, but actually we saw perhaps half a dozen other tourist boats and several local fishermen.
Our Forest Guide looked hard at the fishing boats and several times took photos with his phone. There is a lot of illegal fishing in the Sundarbans and he would go back to see whether those we'd seen had permits to be there.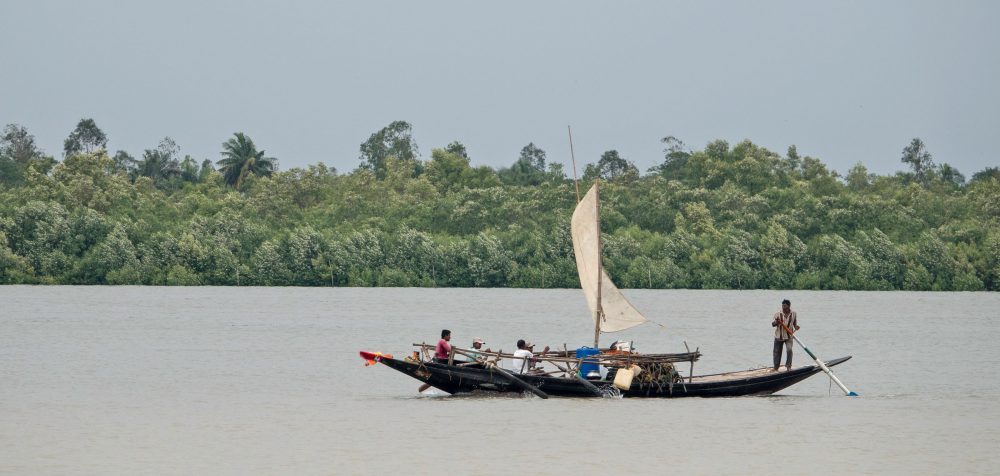 Visitor areas have been constructed in several places through out the park, where people can go ashore and climb watchtowers to get a better look at the surrounding area.
The steps to access them, as with all the steps we used in Sundarbans, required caution. When the tide was receding it left the steps – which were uneven to say the least – wet and slippery, and with no handrail of any sort a slip and fall was quite likely.
Each of these areas also has a fresh water pool which are – allegedly – favoured places for tigers to come and drink, although they are quite happy to drink salt water as well.
We didn't see much during our time ashore; a spotted deer, a wild boar, Red Junglefowl, Hoopoe and a Red-whiskered Bulbul building its nest.
As we made our way slowly back to camp we decided there was not much point in doing the full day cruise planned for tomorrow.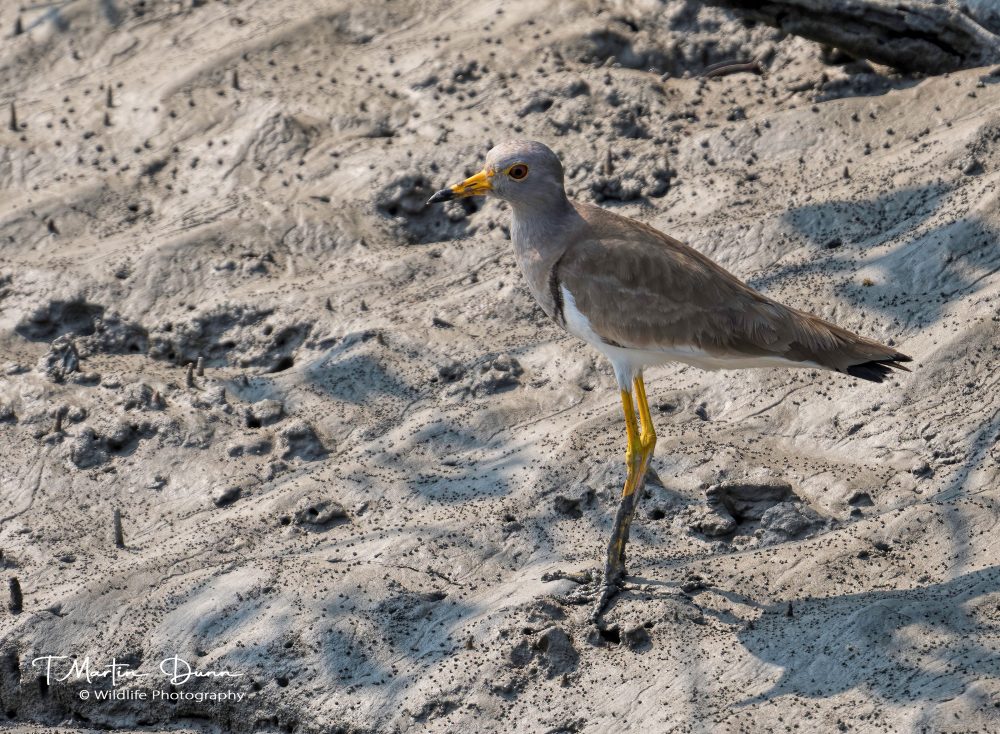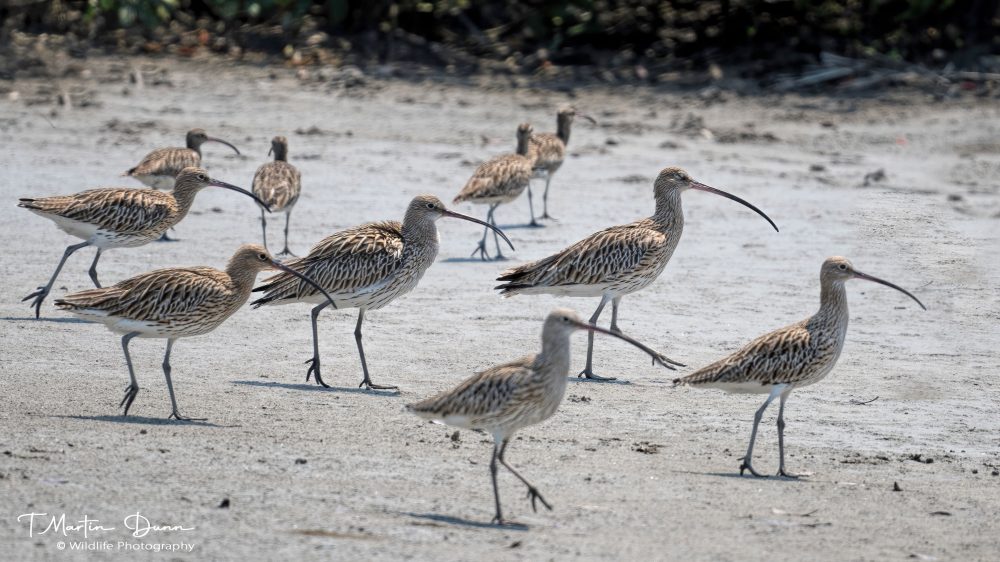 n the afternoon I decided to explore the camp and the surrounding area in the hope of better luck. It was marginally more productive.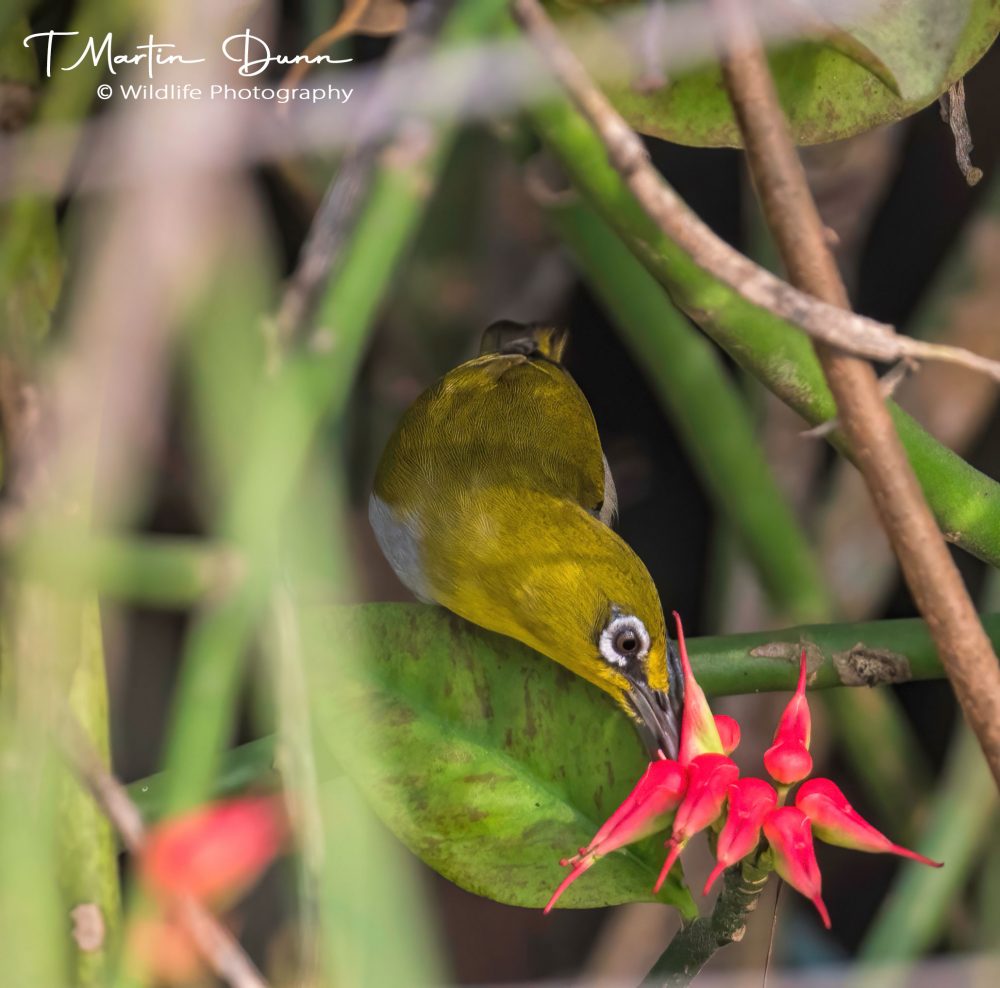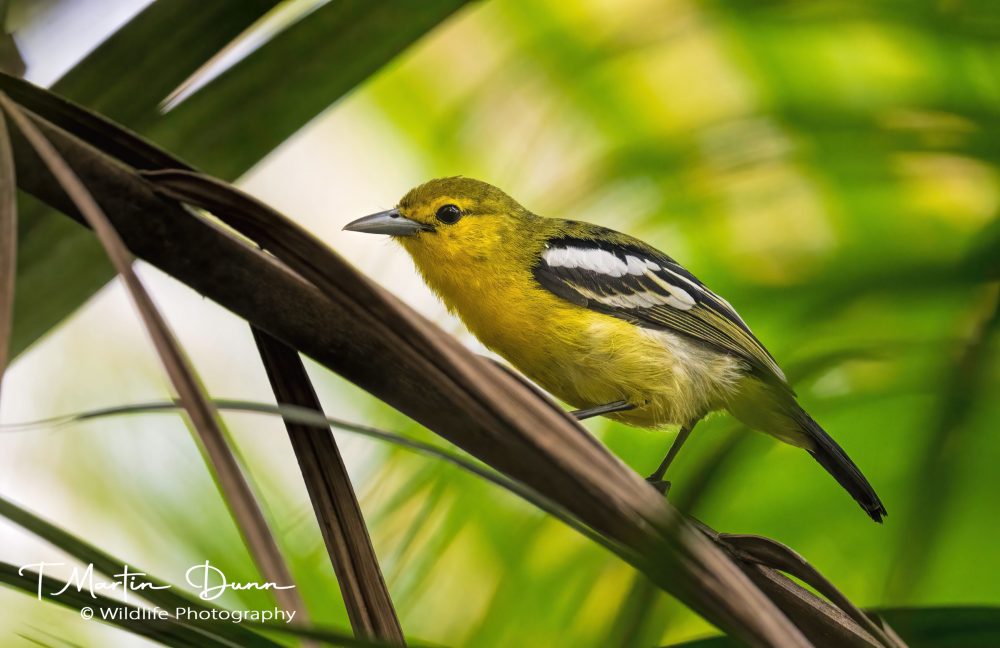 On our last morning, we declined the offer of a cruise before we checked out as we would have a 2 hour boat ride back to Godkhali anyway.
Late March is supposed to be a good time for visiting Sundarbans, with warm weather in the period before the monsoons begin.
For me it did not live up to expectations on any front.
Sundarban Tiger Camp was disappointing; the evident need for significant refurbishment was just one symptom of lacklustre management.
We saw precious little wildlife and surprisingly few birds. Any tiger sightings are almost certainly entirely down to chance as none of the people we encountered could tell us of any spot which a tiger used on a regular basis to get to the water. So it seemed that they relied completely on luck; cruising slowly along and hoping for something to emerge from the mangroves.
Given the effort it takes to get there and the lack of wildlife once there, I cannot really recommend Sundarbans as a wildlife or photography destination; I certainly will not be rushing back.
Yet, for it to hold a place among India's top birding sites suggests that we did not see it at its best.