Valley of the Grey Ghost
Our search for a Snow Leopard
The plan was that we would fly up to Leh and then trek to the village of Rumbak, where we would base ourselves for a few days whilst scouring the valleys for an, apparently, elusive snow leopard.
It didn't quite work out that way.
I don't mind trekking, but given that home for me in in Suffolk, one of the UK's flattest counties, I'm not a great fan of high altitude trekking and the thought of hiking around mountains at 4000 metres did not fill me with excitement. Still, I did make an effort to prepare myself.
23 March
After the pollution and noise of Delhi it was great to step out onto the tarmac at Leh airport and see clear skies and breathe fresh air. Actually, although the air was certainly fresh, at 3500 metres breathing it was not as easy as I'd have liked.
Still, we had 2 days to acclimatise before beginning our trek so it should be fine.
We were here to look for one of the World's most elusive cats, the snow leopard. The area where we were headed was also home to the even more elusive Pallas Cat and the Lynx. I didn't expect to see either of those, but my hopes were high for snow leopard.
It was quite a shock to check into the Grand Dragon Hotel. Much more luxurious than expected.

On our first afternoon we ventured out to visit Shanti Stupa and take in the surrounding scenery.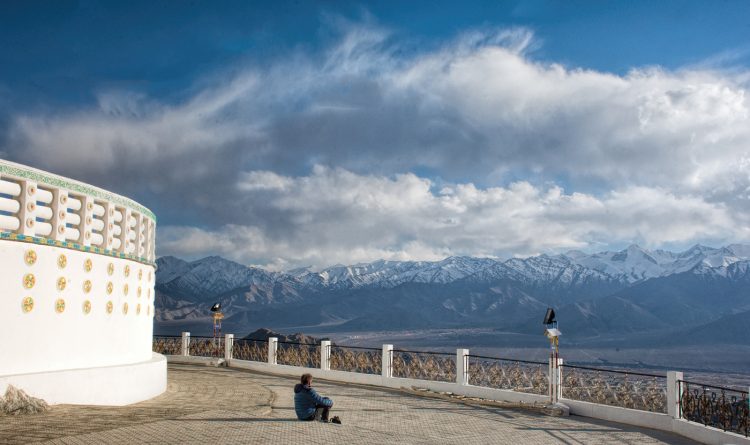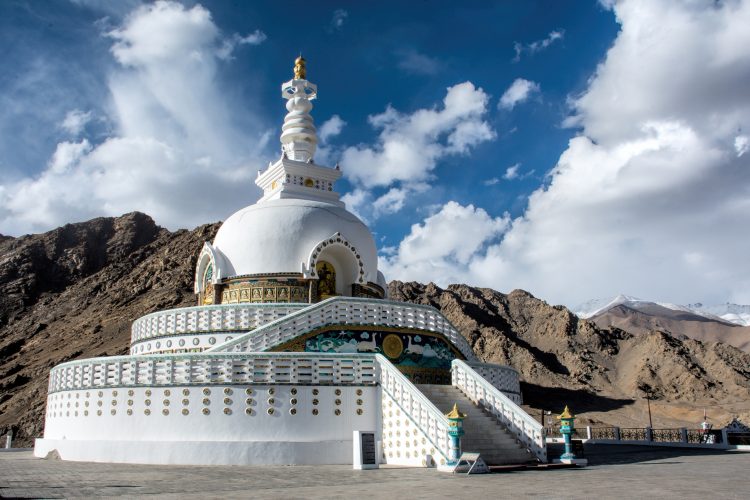 Snowfall had been very light during the winter just gone and there was very little covering on the mountains. This meant that the temperature was a lot warmer than we'd expected, around 5 degrees instead of minus 10.
The downside of the lack of snow was that tracking snow leopards would be much tougher.
24 March
After a restless night I woke to learn that Varun, our friend who had organised the trip, had been taken to hospital during the night. I hadn't slept well, but his night had been much worse and he'd needed to go into hospital for oxygen. It turned out that this was nothing new for Varun as he'd needed to go into hospital on his two previous visits to Leh as well. Altitude clearly wasn't his friend.
For our second day of acclimatisation the plan was that we'd mooch around and go and do some birding by the river, where we might get to see a pair of Ibisbills – a lapwing sized bird with a long curved bill.
But it didn't work out that way. As we were driving out of town our guide, Tashi, got a phone call.
A snow leopard had been sighted, did we want to go and see it?
What a question, of course we did. But, in our excitement, what we had neglected to ask was exactly where it had been sighted.
As it happened, it had been sighted near Rumbak, the mountain village we would be trekking to tomorrow. Except that now we were going there today.
Tashi drove us up along a winding mountain road and we were all looking forward to seeing the snow leopard. Then he stopped that car and said that we must walk the rest of the way.
"How far?"
"About two and a half hours."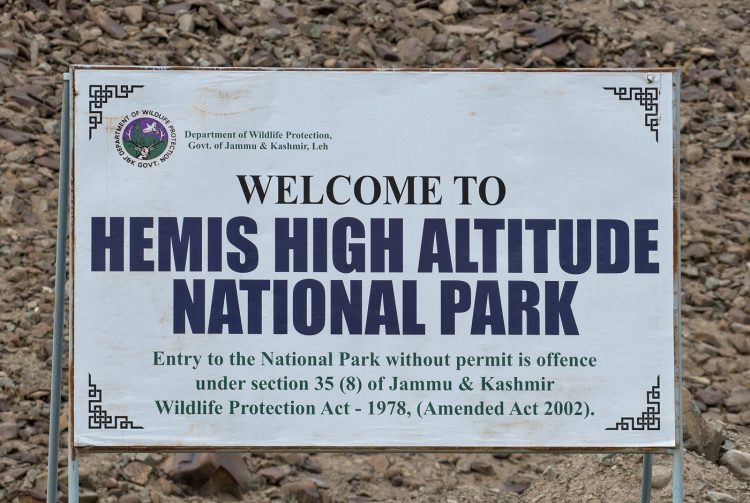 The road continued upwards at about a 35 degree angle. I was fine for the first three hundred metres or so and then I started to find it tough going.
It was not long before I found myself struggling to keep up. Hardly surprising as Tashi was a local and Marc was a keen mountaineer and trekker. I, on the other hand, live in Suffolk, about 20 metres above sea level, in a county with hardly a hill.
A few more minutes and I knew that I wouldn't be making it up that mountain today. I said I would go back and wait by the car whilst the others went up. I'd go up the following day, as planned. Somehow persuading myself that putting it off for 24 hours would make it easier.
With several hours to kill, I wandered up and down the road, as much to keep warm and anything else. The only thing I found to photograph was a magpie.
After about an hour I heard someone calling out and discovered that our second driver had arrived. In the back of the car was Varun, with a oxygen mask over his nose and mouth.
Any surprise I might have felt at his being out of hospital paled into insignificance when he said that he was going to walk up to see the snow leopard.
That didn't leave me with much choice. If he could rise from his hospital bed and walk up there I could hardly wimp out.
So, with the driver carrying a portable oxygen cylinder, just in case, we began to walk very slowly up the road. And I mean slowly. What was supposed to be a two and a half hour hike took us at least three and a half. The higher we got, the harder each step became.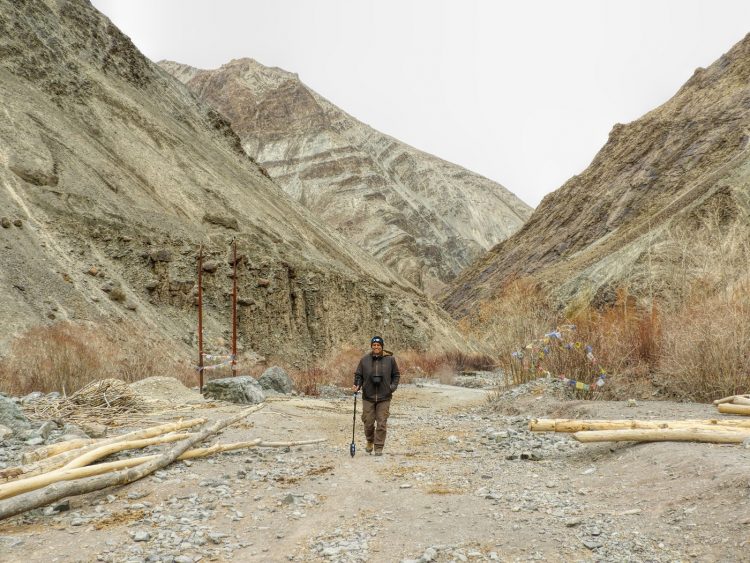 When we were probably two thirds of the way there we met Tashi and Marc and Trish coming back down. Now I felt very guilty. They'd clearly kept their visit short and hurried back down because they thought I was waiting by the car.
By then I had already made my mind up that if I managed to reach the homestay there was no way I was coming back down again today. I'd just stay there and wait for the others to come back.
After a short confab we agreed that Marc & Trish would go back to the hotel in Leh and clear out our rooms, then come back up in the morning. Varun & I would head to Rumbak and collapse.
For a brief moment, a very brief moment, reassuring words like "not far now, you're almost there" had me believing that my ordeal was nearly over. Yet it seemed to go on for ages. My legs felt like lead and there seemed to be no oxygen for me to breathe. I could manage about 70 metres before I needed to stop to gasp in air.
Eventually we did round the last bend and the village was there ahead of us. As we reached the village Tashi pointed out a yak carcass lying in a field and then the spot where the snow leopard was sleeping on the hillside opposite, between 300-400 metres across the valley.
As we entered the homestay I did notice that it was pretty basic, but at that point I was past caring. Finally I could sit down. No more walking. Now that we'd arrived I could start paying more attention to what was going on,so while our host fussed over us, bringing tea (delicious) and pot noodles (disgusting)*, Varun & I sat and watched from our window, waiting for the leopard to come down.
* Apparently, one of the things you're supposed to do when at altitude is take on plenty of carbohydrates. Pot Noodle was the easiest way of supplying them. Thankfully, the food thereafter was wonderful.
The story so far
We were incredibly lucky. A yak had died, and before the farmer could dispose of the body it had been discovered by a snow leopard. She came down to the field in front of the village and fed on it before retiring to the hillside to sleep. With a lot of meat still remaining on the carcass everyone was certain that the snow leopard would be in the vicinity for the next few days.
A room with a view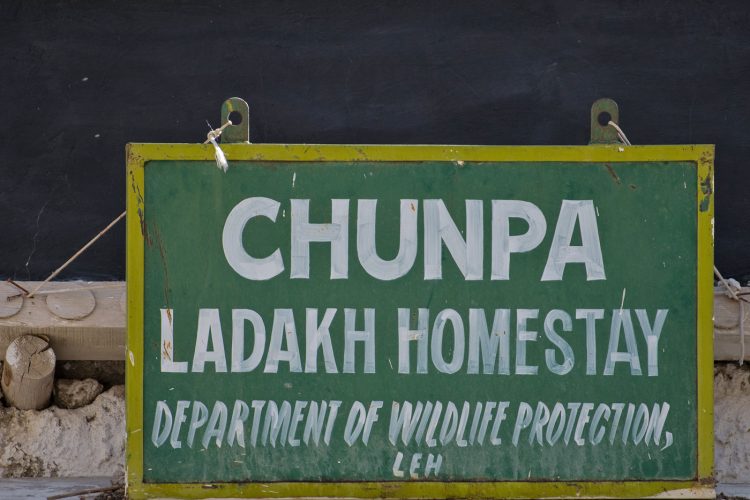 Varun & I were shown to our room, which had a window that looked out over the field where the yak carcass lay to the mountains opposite. We could literally lie on our beds and look out of the window to where the snow leopard would come to feed.
We'd been there for about an hour when one of the spotters rushed in to say that the leopard was on her way down. We sighted her just as she was entering the riverbed.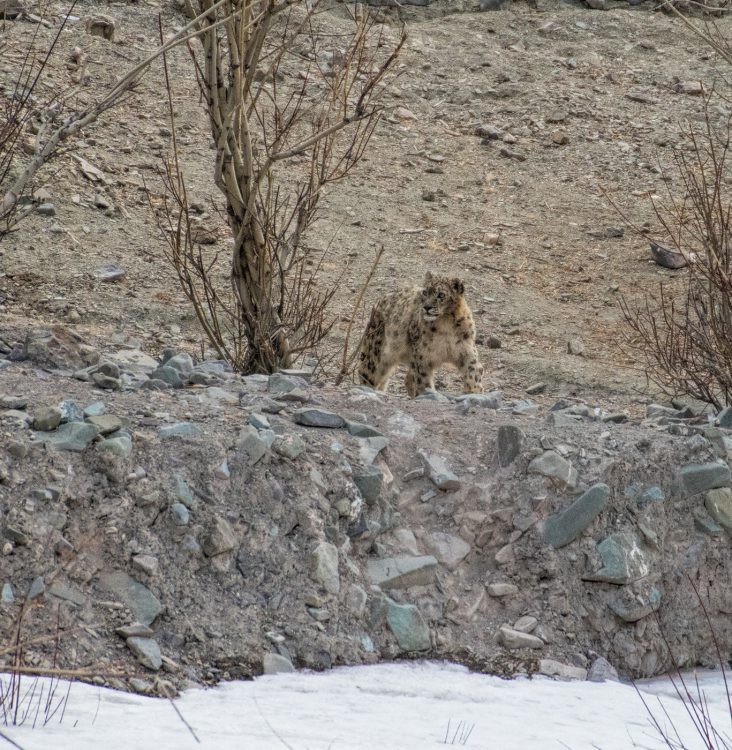 She climbed through the fence and walked right up to the carcass and started feeding.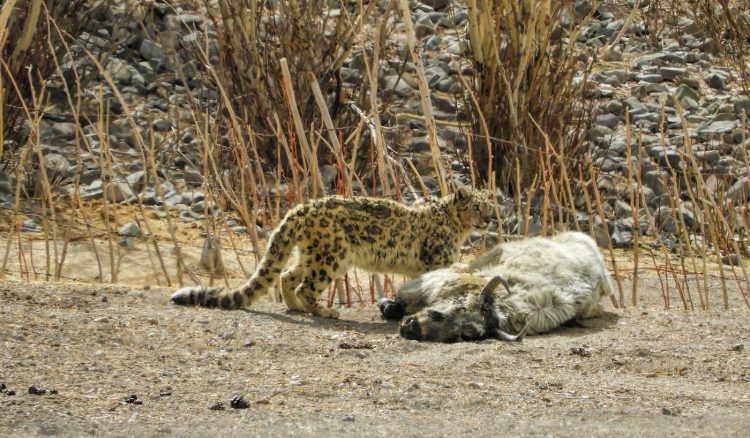 For some reason the snow leopard became very irritated by a small group of magpies that approached. It wasn't as though they would eat very much but even so she didn't like them being there and chased them away.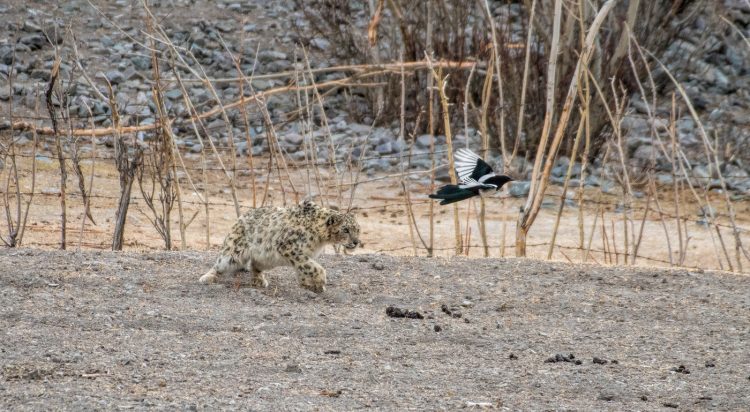 Rumbak is a small village with half a dozen homestays and, in addition to us, there were probably half a dozen other tourists there.
Once it was clear that the snow leopard had settled down beside the carcass, some photographers moved up to the edge of the field for a better view. The temptation was too much for Varun and he went down as well. I really wanted to get closer. I even put my boots and jacket on and went out of the house but after a few steps I was breathing hard and retreated back to our room.
She stayed feeding until well after sunset.
In fact, although we couldn't see her, she stayed by the carcass though the night until just before dawn; making sure that foxes and wolves did not come down and steal her food.
25 March
Once the sun had risen, we could see the snow leopard sleeping high on the opposite mountainside. Of course we hoped she'd come down to feed whilst the light was good but there was no way we could make her. If she was going to follow the same pattern as yesterday she would only come down once the sun had fallen behind the mountains. That meant we had a whole day to kill.
Once Marc and Trish had rejoined us, with our baggage, we spent our time trying to guess what time the leopard would come down and which route she would take to approach the carcass.
I had it all figured out and positioned myself so that I would be able to see her coming down the gully opposite and crossing the riverbed.
News of the snow leopard had attracted additional visitors. A local magistrate and a bigwig from the wildlife department showed up and put a small hide in the corner of the field.
The Grey Ghost
She really did move like a ghost. One moment she was asleep on the hillside, the next she had disappeared from sight. By now there were spotters with scopes all over the village, trying to get sight of her. Every so often someone would come running down and say she was on her way. As soon as this happened two or three people would scurry into the hide to sit and wait. Then, when an hour had passed and she had not put in an appearance they would emerge and try to get warm.
Even though there must have been at least twenty people watching constantly, no-one saw her walk onto the rock. One minute it was empty, next minute she was there. By now it was after five thirty and the whole village was in shadow. We needed her to come down soon. And she did.
Not only did she come down but she followed the exact route I had imagined.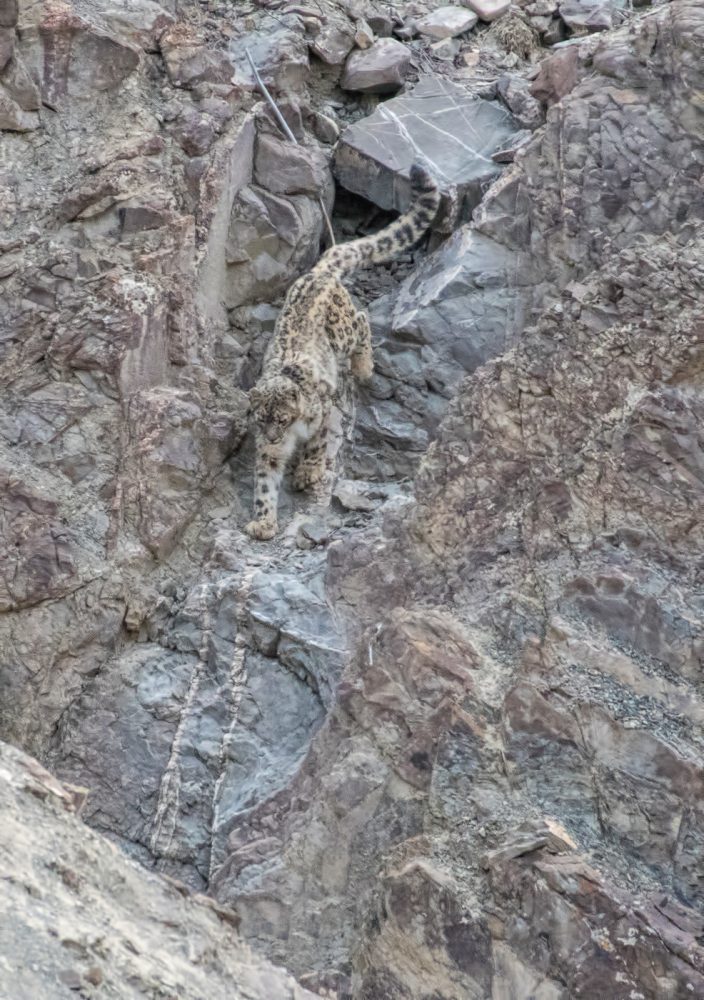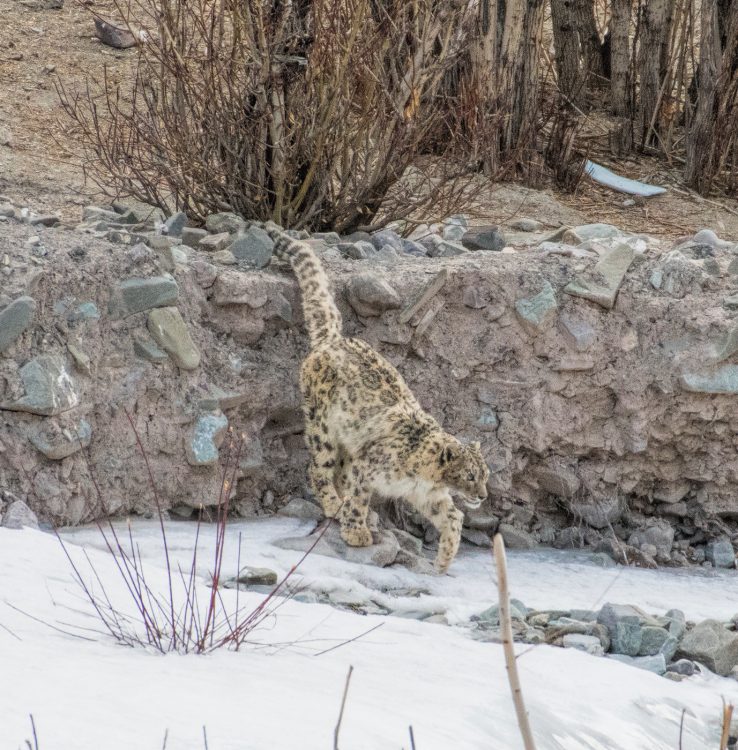 She even stopped for a stretch in the riverbed.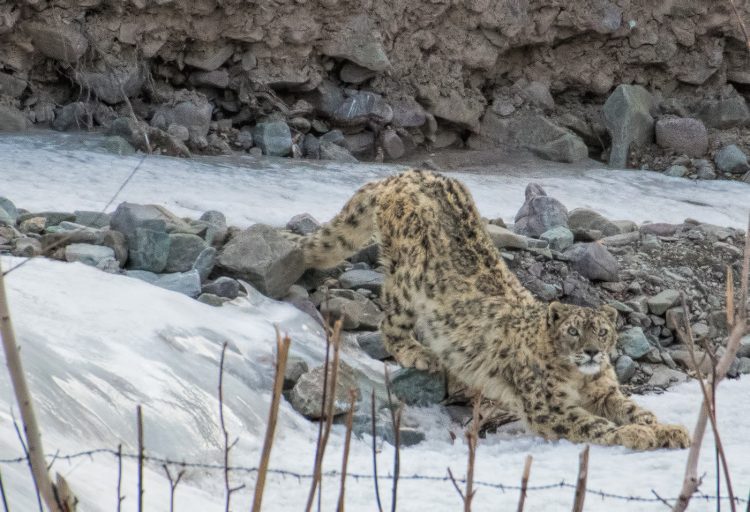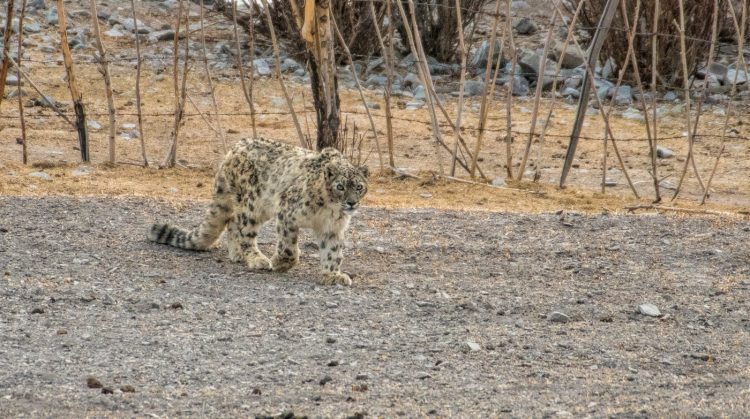 Once again she stayed with the yak carcass for most of the night. She was disturbed briefly by people quitting the hide and dismantling it but that was only temporary.
26 March
As the sun rose we could see her back up on the mountainside opposite.
Feeling less shitty I ventured further from the homestay, exploring the valley a bit. All the time keeping an eye on the snow leopard; willing her to come down a bit earlier.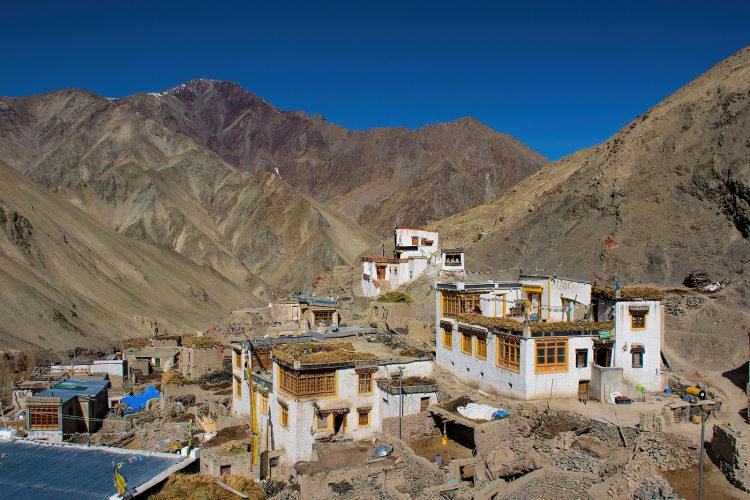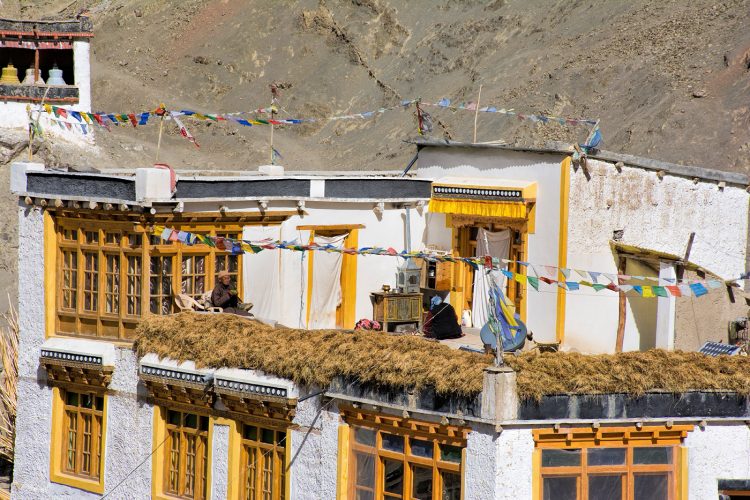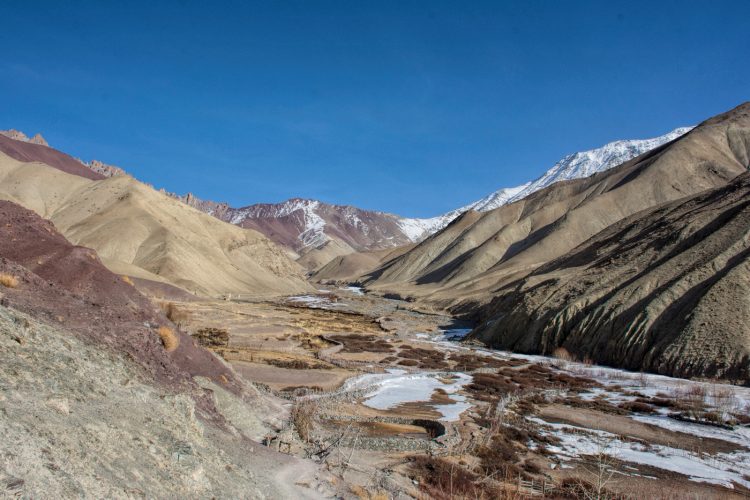 In fact today she came down even later and the opportunities for photos were not as good as the past two days. It didn't matter though, we'd been amazingly lucky. One of the World's rarest wild cats had come down to within 150 metres of where we were staying and, better still, I hadn't needed to trek all over the valleys to find her.
27 March
The walk back down to the cars was easy. It was all downhill. I even enjoyed it and had time to look around at the scenery.