I'm not a big fan of cities, but as almost every visit to India requires spending at least 1 night in the city where the international flight arrives. Usually time in cities is kept to an absolute minimum and we head straight out in search of wildlife but, as this was my first visit to Kolkata, I thought it might be fun to stay a couple of days and have a look around.
To help me find my way I contacted a local outfit called Calcutta Walks. They arranged for one of their 'Explorers' to show me around some of the city's attractions.
Our first outing would explore some of the city's colonial heritage and then, the following morning we would be visiting 2 famous areas of Kolkata, Mallick Ghat flower market and Kumortuli potters village.
Our first afternoon was a wet one so we began with a visit to St John's church to see the controversial painting by Johan Zoffany, The Last Supper. At first it doesn't look very controversial, but when you look more closely at the individual characters in the painting it is clear this is no ordinary work of art and somewhat remarkable that it is still displayed in a church.
Much of our walk involved Ramanuj, our Explorer, pointing out examples of colonial architecture and then saying "this was where.." or "this used to be…"
The best bit for me was walking among the food stalls near the Law Courts and sampling wonderful fast food, Indian style.
No plastic in sight; the food was served either on small plates made from banana leave or, in the case of thali, on metal plates that could be reused over and over again.
The aromatic Masala Chai was served in small clay cups that were broken up and recycled. Apparently Kolkata gets through 5 million of these small cups each day.
Luckily the rain ceased sometime during the night and we emerged from our hotel to a welcome sight in Kolkata, a clear blue sky.
Mallick Ghat flower market
As befits one of the biggest flower markets in the whole of India; Mallick Ghat has a wonderful array of colours, sights, smells and sounds. As soon as the sun rises, you'll find thousands of wholesalers here with their many kilos of colourful freshly cut flowers from the farmlands.
Established in 1865, the flower market is beside the Hooghly river, and nestles underneath the Howrah Bridge, across the river from Kolkata's Howrah station, the largest in India, with 23 tracks.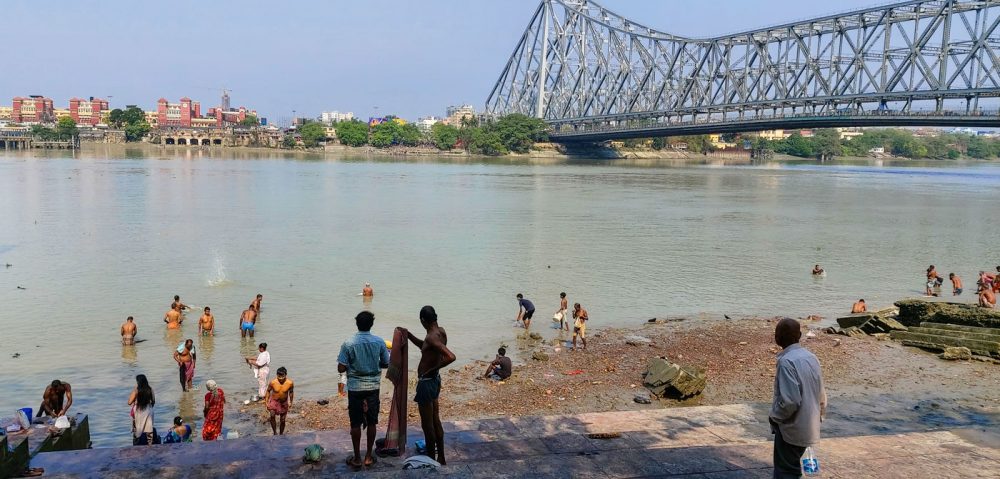 Each year, thousands of pujas (devotional Hindu rituals) take place across Kolkata and the larger state of West Bengal. Many of them are dedicated to the Hindu goddess Durga, with her idols taking pride of place at temples, homes and on pandals (temporary public structures set up for the duration of a public puja) throughout the city. Most of these statues are created in the same small pottery village in Kolkata, a practice that has been taking place since the town became the capital of British India in 1772. Kolkata once had many such villages, each dedicated to a particular trade. Today, however, the potters' quarter of Kumortuli is the only one of note that remains; the others have long been demolished as the city swelled in size. This ramshackle neighbourhood, which is home to more than 200 potters, vibrates with artistic endeavour during the day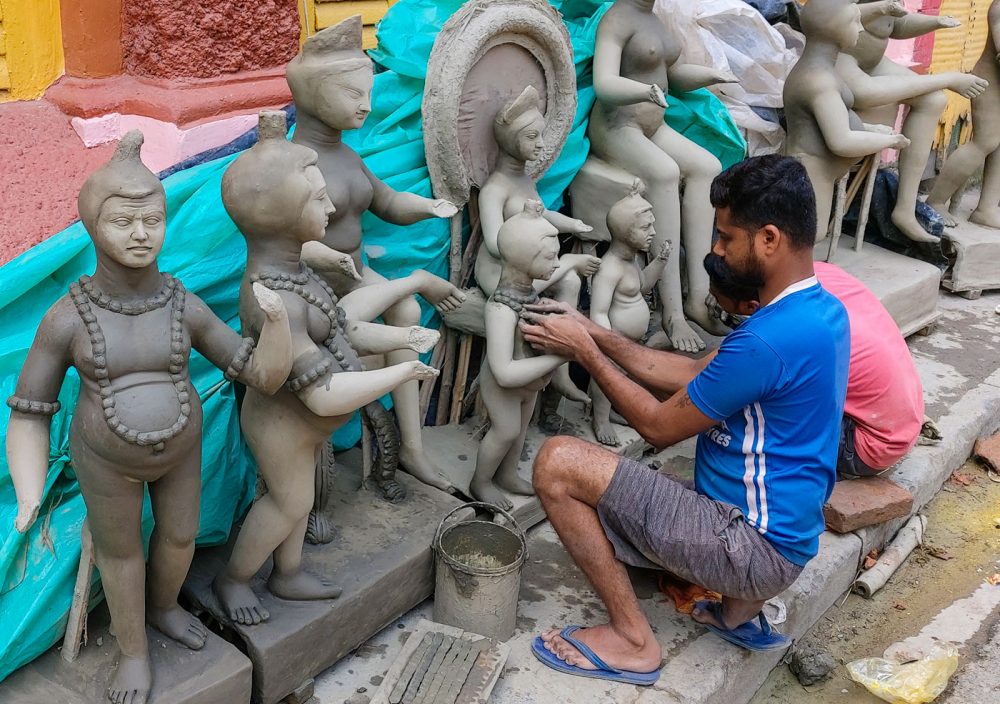 The word Kumortuli or Kumartuli originates from the traditional Bengali word 'Kumore' which loosely translates to 'Potter' in English.
Over time, it has developed into the name Kumortuli.
During the British Raj (1858 – 1947), Joseph Holwell a member of the East India Company separated the Indian districts in the North of Kolkata by their skill set. He created a series of bazaars in Chitpur, or 'Black Town'. 'Coomartolly', as it was called back then, was the Potters quarter.
Although in the North of the city, many tradesmen have come and gone over time. The potters or Karigars of Kumortuli have always remained. Selling their clay pots and statues for centuries at Burrabazar.
Today, there are now over 500 workshops in a labyrinth of lanes that build clay statues of Hindu idols.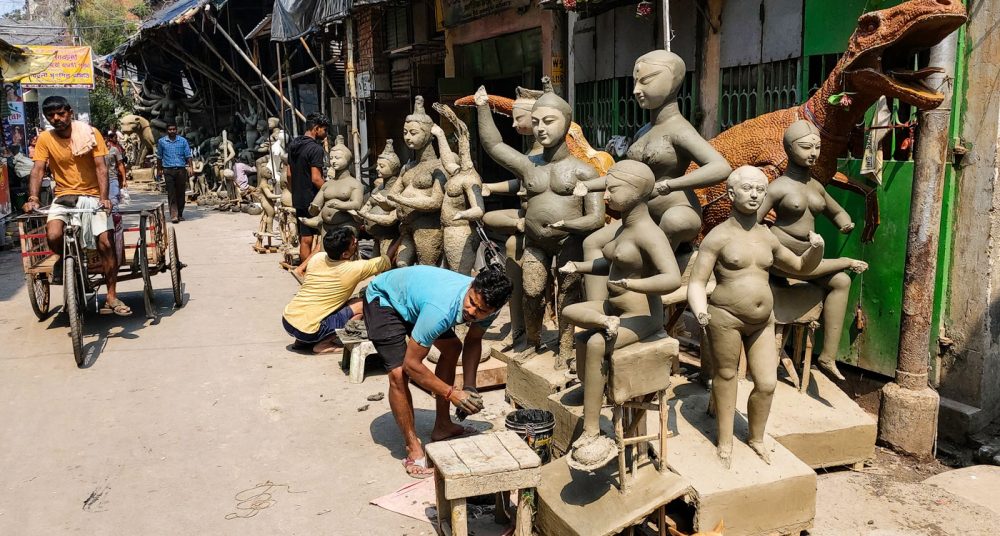 The idols, which range in height from two to three metres, can fetch between INR16,000 (USD$250) and INR30,000 (USD$465). These price tags are justified by the considerable work goes into the construction of an idol.
Each deity is usually crafted by a team of between three and five artisans. As a younger craftsman, Kishore's main role is to prepare the structure of each statue. Using a hammer and nails, he fashions a frame from bamboo before wrapping it with straw.
Next, he applies a malleable clay on the contours of the frame. Depending on the complexity of the idol, he may or may not also create its feet, hands and head with clay; sometimes, that task is left to the more experienced artisans. When the whole frame has been layered, it is wiped with a cloth soaked with wet clay to prevent any cracks from occurring once the statue dries out.
Once dried, the painting can begin, a prestigious task that is typically reserved for senior artisans. After an initial coat of white paint, the idol is decorated with an array of vibrant colours. The entire process reaches its artistic apex when it comes to the idol's eyes. So revered is the act of painting the eyes of a deity that the artisan will often ritually cleanse himself with water – and sometimes meditate – before doing so.
The final step sees rope-like hair glued onto the idol, which is then clothed with various shimmering textiles.
Any idols that remain unsold after the puja and kept for the next one, when they will be refurbished for whichever deity is appropriate.
When the puja is complete, the idols that have been used are thrown into the river, where the clay melts away. The straw and string are then collected to be used again or disposed of.
Our time in Kolkata had been great fun and had set us up perfectly for our onward travels to some of India's foremost birding destinations.