10 nights / 11 days
Commencing:    08 November 2019
Cost per person sharing:                                             US$3,200
Single room supplement:                                            US$2,350
Domestic airfares: Delhi-Leh-Delhi                            US$   335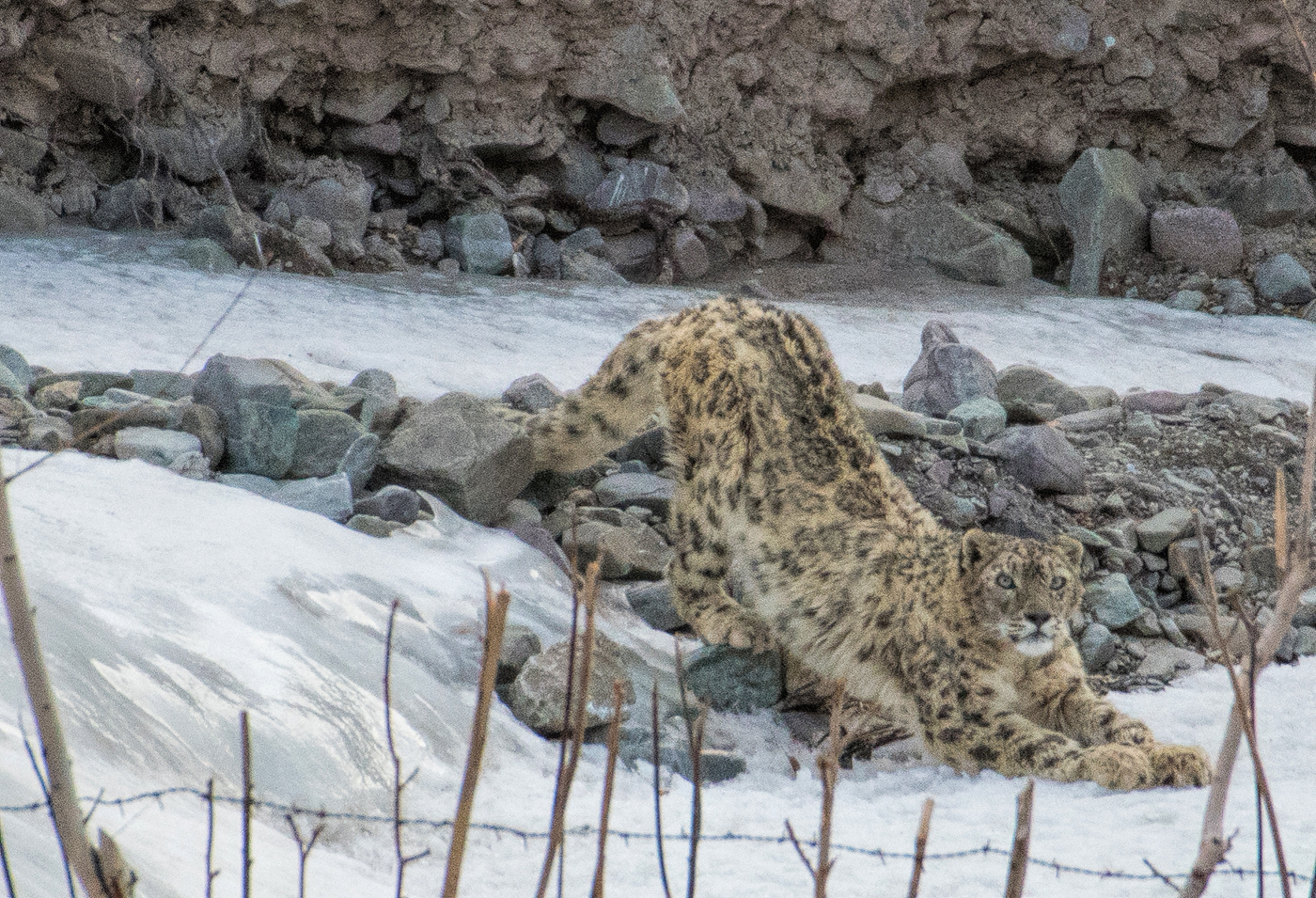 Ladakh, part of Jammu & Kashmir is home to exceptional wildlife. This diversity is a result of the unique landscape and the weather conditions in the region.
Snow Leopard – elusive and enchanting
Snow leopards have evolved to live in some of the harshest conditions on Earth. Their white-grey coat spotted with large black rosettes blends in perfectly with the steep and rocky mountains of Central Asia.
The snow leopard's powerful build allows it to scale great steep slopes with ease. Its hind legs give the snow leopard the ability to leap six times the length of its body. A long tail provides balance and agility and also wraps around the resting snow leopard as protection from the cold.
For millennia, this magnificent cat was the king of the mountains. The mountains were rich with their prey such as blue sheep, Argali wild sheep, ibex, marmots, pikas and hares. Snow leopards are found in 12 countries—including China, Bhutan, Nepal, India, Pakistan, Afghanistan, Russia, and Mongolia—but their population is dropping; there are estimated to be less than 7000 of them left in the wild.
Wildlife in the Upper Himalayas
For such an arid area, Ladakh has a great diversity of birds – a total of 225 species have been recorded. Many species of finches, robins, redstarts and the hoopoe are common in summer. Resident water-birds include the Brahminy duck and the bar-headed goose. The black-necked crane, a rare species found scattered in the Tibetan plateau, is also found in parts of Ladakh. The lammergeyer and the golden eagle are common raptors here.
Key wildlife to look for on this winter experience:
Mammals: Snow Leopard, Eurasian Lynx, Pallas Cat, Himalayan Wolf, Himalayan Fox, Ibex, Ladakh Uriel, Blue Sheep, Weasel, Marmot and the Woolly Hare.
Birds: Golden Eagle, Lammergeier, Yellow-billed Chough, Red-billed Chough, Eurasian Magpie, Himalayan Snowcock, Chukar Partridge, White-capped Redstart, Horned Lark, Alpine Accentor, Robin Accentor and Ibisbill.
Itinerary
Day 1
Arrive in Delhi. Group participants will be arriving from various destinations so no activities are planned for this day. Overnight in Delhi.
NOTE: Optional activities within the city can be organised – at additional cost – for those who arrive early.
Day 2
Transfer to the airport for a morning flight to Leh in Ladakh. On arrival you will be met and transferred to the Grand Dragon Hotel, our base in Leh. The rest of the day is spent acclimatising.
Day 3
A second day of acclimatisation. Some local sightseeing in and around Leh for those who feel up to it.
Day 4
After breakfast drive to the Snow Leopard Lodge in Ulley. This will be the base for exploring the region in search of snow leopard and other wildlife. Remainder of the day is spent trekking in the valley.
Days 5-8
Continue to explore the valleys for wildlife led by expert trackers and spotters accompanying the group.
Day 9
A last morning exploring the valley before transferring back to the Grand Dragon Hotel in Leh.
Day 10
This morning catch a flight to Delhi. On arrival in Delhi, you will be met and transferred to the Holiday Inn, Aerocity.
Day 11:
Depending on your flight time, transfer to the airport for your homeward flight.
Park & Accommodation
Hemis High Altitude National Park
Hemis National Park is a high altitude national park in the eastern Ladakh region of the state of Jammu & Kashmir.
Globally famous for its snow leopards, it is believed to have the highest density of them in any protected area in the world.
It is the only national park in India that is north of the Himalayas, the largest notified protected area in India (and thus the largest national park of India).
The park is home to a number of species of endangered mammals, including the Snow Leopard Pallas Cat and Himalayan Wolf.
The Grand Dragon Hotel, Leh
Probably the most comfortable accommodation in Leh, the Grand Dragon is the ideal place to relax before and after your time in the Himlayan valleys.
Snow Leopard Lodge, Ulley
Currently the only accommodation available in the valleys that is of a higher standard than the traditional homestays. The convenience of running water and flushing toilets should not be underestimated.
What is included:
10 nights accommodation in India with breakfast included in Delhi. Your stay in Leh & Ulley will be on full board
All sightseeing & wildlife activities as per itinerary
Services of expert tracker & spotters in Ulley
Vehicles at group's disposal in Ulley
All road transfers will be by air-conditioned Toyota Innova
What is not included:
Does not include any beverages including mineral water, soft drinks, alcoholic drinks etc. unless otherwise specified.
Any airfare or airport taxes (domestic flight Delhi-Leh-Delhi quoted separately above)
Any items of a personal nature such as beverages, tips (except for group meals and baggage handling), laundry, telephone calls etc.
Anything listed as optional.
Significant escalation in fuel prices, new taxes,levies on hotels and transportation services or any increases in entrance fees.
Key Information about the Region
Acclimatisation
Since this expedition takes you to elevations between 3500m and 4900m, it is imperative that all guests spend at least 2 days in Leh to acclimatise. During this period time should be spent resting or making short excursions to the city and surrounding villages.
AMS
AMS or Acute Mountain Sickness is a big risk when traveling over 3000m. AMS can be unpleasant and may reduce enjoyment of activities. In addition, if it is not managed appropriately it can result in more serious illness which can lead to death. An understanding of the prevention and recognition of AMS is important to anyone travelling to high altitude.
Symptoms
The main symptom is headache, which is as a result of mild swelling of the brain, caused by the reduced oxygen levels. This can vary in severity. Rarely, people can experience more severe swelling leading to a condition called high altitude cerebral oedema (HACE).
For a diagnosis of acute mountain sickness (AMS) to be made you need a Headache plus one other symptom from:
Poor appetite and/or nausea/vomiting
Fatigue/weakness
Dizziness/light-headedness
Difficulty sleeping