10 nights / 11 days
Commencing:   20 October 2018 & 23 March 2019
Cost per person sharing:                                             US$3,015
Single room supplement:                                            US$1,275
Domestic airfares:                                                                         
Delhi-Bhopal & Nagpur-Bangalore                             US$  210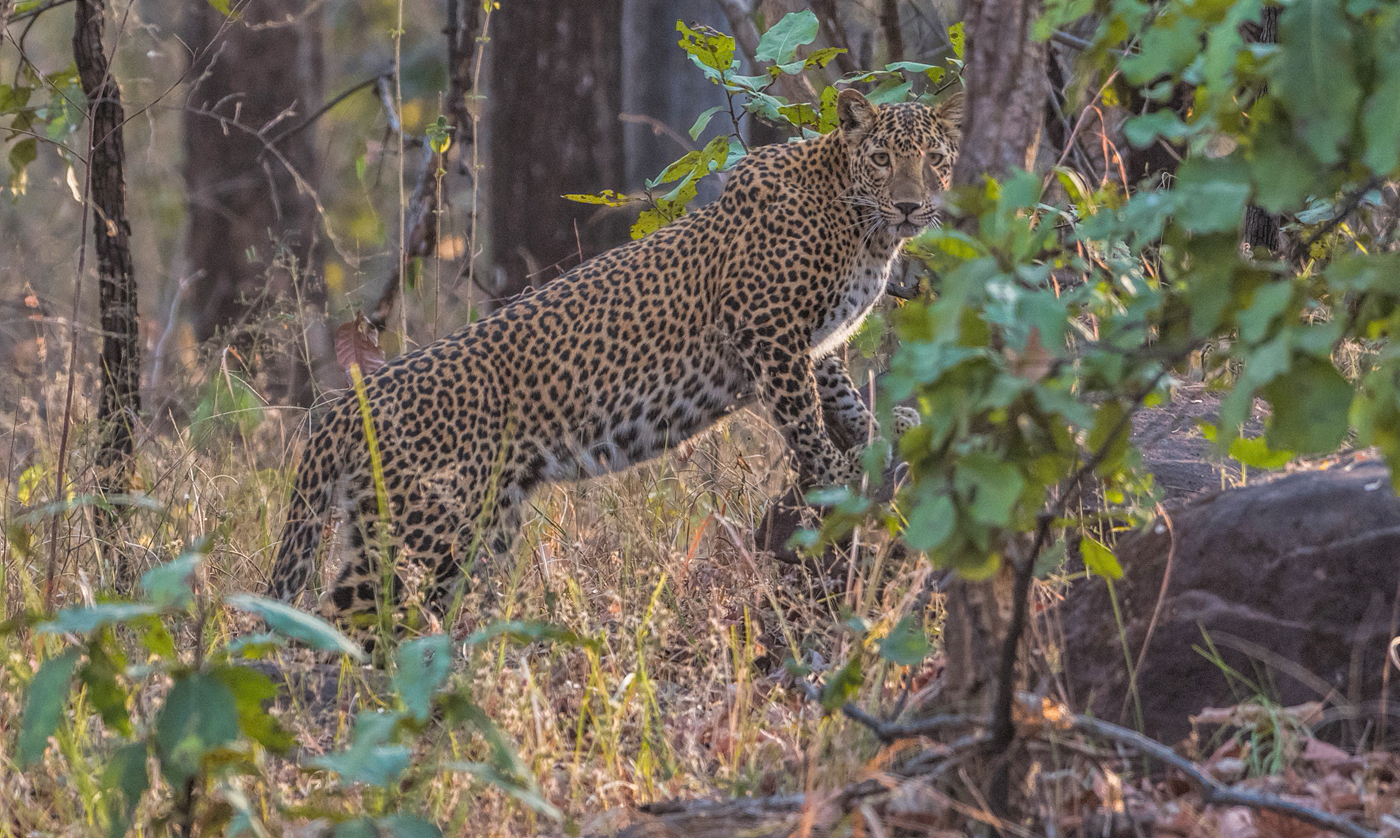 India is home to the highest diversity of wildcats in the world, surpassing even the number of wildcat species found in the continent of Africa. There are 37 species of wildcats found in the world and of these India is home to 15 species (approximately 40% of the total wildcat species). That's a very big number considering not many around the world look upon India as a wildlife destination. A large number of you would know of all the iconic species such as the tiger, lion, leopard and the snow leopard, however, a few of us give importance to the lesser cats even though searching for them is just as exciting.
This experience has been designed to optimize the search for the following wildcats:
Bengal Tiger, Indian Leopard, Melanistic Leopard (although it's the same as the Indian leopard seeing a melanistic leopard somehow seems more exciting and unique) Jungle Cat, Rusty Spotted Cat (the World's smallest wildcat)
Apart from the wildcats, other mammals that you can expect to see are:
Asiatic Elephant, Sloth Bear, Dhole (Asiatic wild dog), Gaur (Indian bison), Indian Giant Squirrel, Flying Squirrel, Golden Jackal, Indian Fox. If you're relly lucky you might see the Indian Pangolin and the Honey Badger.
You can also expect to see a huge variety of birds.
Itinerary
Day 1
Arrive in Delhi. Group participants will be arriving from various destinations so no activities are planned for this day. Overnight in Delhi.
NOTE: Optional activities within the city can be organised – at additional cost – for those who arrive early.
Day 2
Transfer to the airport for an early morning flight to Bhopal. On arrival you will be met and transferred to Forsyth Lodge, the accommodation for our visit to Satpura Tiger Reserve. Lunch will be at the lodge.
You safari experience begins with an afternoon jeep safari in Satpura Tiger Reserve.
Day 3
This morning we embark on a full day safari into Satpura to the Churna Zone. This takes us deeper into the park, beyond the main tourist area. Overnight at Forsyth Lodge.
Day 4
A morning walking safari in Satpura is an opportunity to slow down the pace.
Lunch will be at the lodge. Setting off a little later this afternoon, a dusk drive gives us the chance to see some of the nocturnal animals and birds.
Day 5
You take your last safari in Satpura this morning, then, after brunch at the lodge you transfer by road to Pench Tree Lodge, the accommodation for our visit to Pench Tiger Reserve. There are no game activities planned for this afternoon but the area around the lodge is worth exploring for birds and other fauna.
Day 6
Morning and afternoon jeep safaris exploring Pench Tiger Reserve.
Day 7
You take your last jeep safari in Pench this morning. After an early lunch you will be transferred by road to Nagpur airport, where you catch an evening flight to Bangalore.
On arrival in Bangalore you'll be met and transferred to the hotel where the remainder of the evening is free.
Day 8
After an early breakfast transfer by road to Kabini. You should arrive at Kaav Jungle Lodge in time for lunch. This afternoon you start your exploration of Kabini with a boat safari; ideal for discovering riverine birds, reptiles and animals.
Day 9
Today you explore Nagarhole National Park in search for the elusive Black Panther (Melanistic Leopard). Although the melanistic leopard is the key reason for visiting Nagarhole, it is also home to the other wildcats such as the Bengal Tiger, Leopard and the Jungle Cat.
Day 10
The day again is spent exploring Nagarhole in search of the various wildcats along with other mammals such as the Dhole, Gaur, Asiatic Elephant, Wild Boar and a variety of deer species.
Day 11
Today you take your last jeep safari into the Indian jungles. Following this you check out and transfer back to Bangalore from where you catch your international flight back home.
Parks & Accommodation
Satpura Tiger Reserve: Forsyth Lodge
Nestled in the midst of 44 acres of jungle at the edge of the Satpura Tiger Reserve, Forsyth Lodge makes every effort to tread as lightly as possible on the ecosystem while making an exciting encounter with nature possible for the visitor. This is reflected in the care with which their buildings are constructed, and in the ways in which they manage and recycle water, and in the manner in which they cast about for better alternatives to existing technology.
At Forsyth, there is a team of enthusiastic and passionate individuals, dedicated to helping their guests discover the diversity of the wilderness at Satpura.
Pench Tiger Reserve: Pench Tree Lodge
Located in the picturesque village of Sarahiri, the lodge is a short drive from the Karmajhiri gate into the park.
At the resort, guests have access to 16 hectares of private forest, to explore and observe the wildlife at close quarters. This is the first lodge to be set up in this underdeveloped zone. Keenly conservation conscious, their six well appointed tree houses, recently augmented by the addition of six stone cottages, blend in with the surrounding forest. Much of the produce used in the lodge kitchens comes from their own gardens.
Kabini: Kaav Safari Lodge
An eco-friendly resort that practices sustainable hospitality, at Kaav they go beyond low-impact tourism. Working in tandem with local communities, they strive to achieve true sustainability with annual plantings of endemic flora to maintain the crucial biodiversity around the lodge.
The lodge uses renewable energy sources wherever possible. Their kitchen waste is digested in a bio gas plant and the naturally-obtained methane is used for all their cooking. They take every care to put in more than they take out by recharging their groundwater tables and using a reverse osmosis system to provide potable water at low-energy expenditure.
The locale that has come to be termed as Kabini sits on the banks of its eponymous reservoir whose river winds its way from Wayanad in Kerala to join the Kaveri in Karnataka. These shores, flanked by the Nagarhole and Bandipur National Parks, are widely regarded as one of the best, most accessible places in the country to sight wildlife. A boat safari to its periphery turns into a bird-watcher's paradise with over 250 species resting on the branches that emerge from within the reservoir's waters, lending this landscape a magical aura.
What is included:
10 nights accommodation in India with breakfast included in Delhi & Bangalore. Your stay in Satpura, Pench & Kabini will be on full board.
5 Jungle Activities in Satpura Tiger Reserve.
3 Jeep Safaris in Pench Tiger Reserve.
6 Jungle Activities in Kabini /Nagarhole National Park.
All safaris will be led by an English speaking naturalist provided by 

the lodge. 

All road transfers will be by air-conditioned Toyota Innova
What is not included:
Does not include any beverages including mineral water, soft drinks, alcoholic drinks etc. unless otherwise specified.
Any airfare or airport taxes (domestic flights Delhi-Bhopal & Bangalore-Delhi quoted separately above)
Any items of a personal nature such as beverages, tips (except for group meals and baggage handling), laundry, telephone calls etc.
Anything listed as optional.
Significant escalation in fuel prices, new taxes,levies on hotels and transportation services or any increases in entrance fees.