12 nights / 13 days
Commencing:   18 March 2020
Cost per person sharing:                                             US$3,620
Single room supplement:                                            US$1,860
Airfare:
Delhi-Bagdogra-Delhi & Delhi-Jabalpur-Delhi             US$435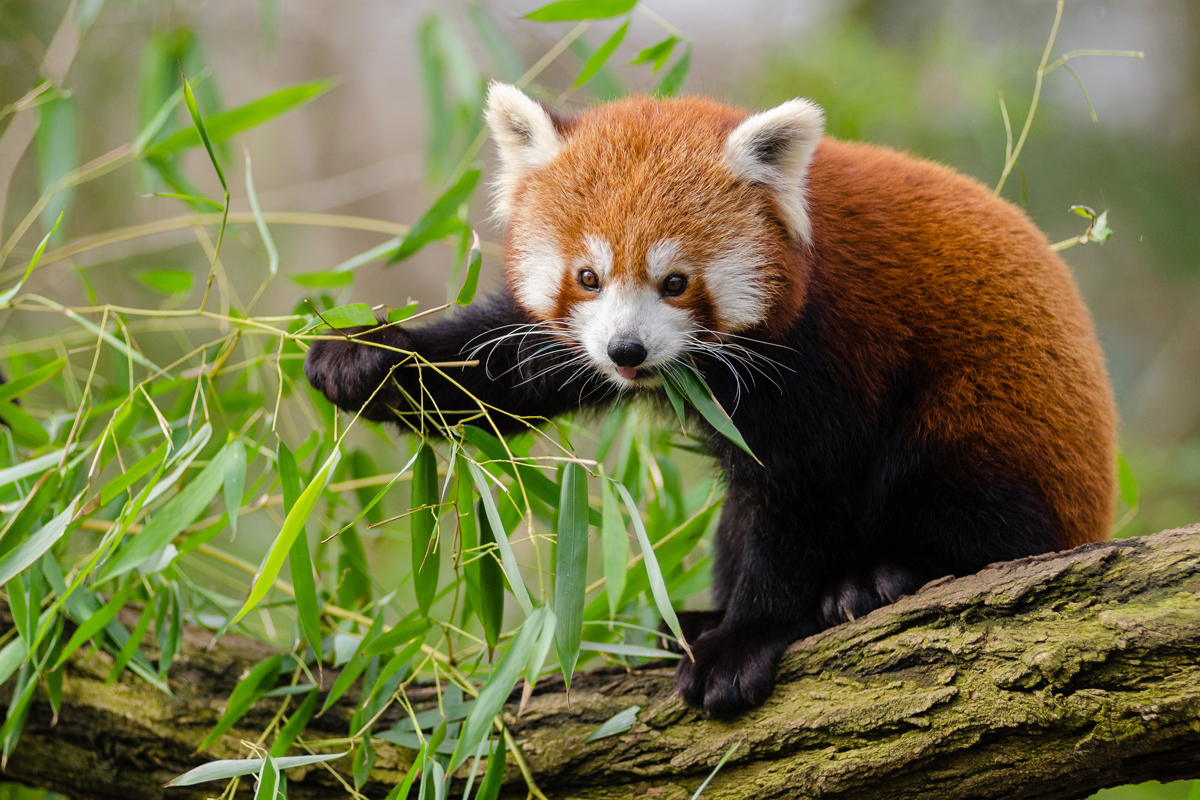 Tigers and Red Pandas
India is full of wonderful species waiting to be seen and appreciated; undoubtedly one of the cutest creatures of them all is the Red Panda. It is also the only true "panda" species in the world; the Giant Panda is actually a bear.
The red panda is slightly larger than a domestic cat with a bear-like body and thick russet fur. The belly and limbs are black, and there are white markings on the side of the head and above its small eyes.
Red pandas were once thought to be closely related to the giant panda, but genetics has shown they are more closely allied with the raccoon and weasel families. They are secretive and gentle creatures, spending most of the day sleeping curled up with their tail wrapped around their head.
Red pandas are very skilful and acrobatic animals that predominantly stay in trees. Almost 50% of the red panda's habitat is in the Eastern Himalayas in dense forest and bamboo thickets in elevations ranging from 6,000 – 12,000 feet.
These animals spend most of their lives in trees and even sleep aloft. When foraging, they are most active at night as well as in the gloaming hours of dusk and dawn. Red pandas have a taste for bamboo but also eat many other foods as well—fruit, acorns, roots, and eggs.
Our safari take you to two states in India – West Bengal in eastern India to Singalila National Park and to Madhya Pradesh in Central India to Kanha Tiger Reserve. The regions differ vastly in the terrain, birdlife as well as mammalian life forms.
Singalila National Park is one of the most exotic Himalayan forests in India. It is a wilderness located on the Singalila Ridge at an altitude of 7000 feet to 12000 feet above sea level with an area of 78.6 square kilometers.
This is a birding paradise as well. More than 300 species of birds have been recorded here. It has a huge list of exotic birds.
There are an estimated 32 Red Pandas within the limits of Singalila. Apart from the Red Panda, other mammals found here are- Himalayan Black bear, Clouded Leopard, Leopard, Leopard Cat, Himalayan Serow, Barking Deer, Yellow-throated Marten, Wild Boar, Pangolin, Pika and many other Eastern Himalayan exotics.
Kanha on the other hand is excellent for exploring the deciduous central Indian jungles. Of course the highlight of this region is the Bengal Tiger, Leopard, Asiatic Wild Dogs along with a huge diversity of birds that are quite different to the ones that you find in Singalila.
Itinerary
Day 1
Arrive in Delhi. Group participants will be arriving from various destinations so no activities are planned for this day. Overnight in Delhi.
NOTE: Optional activities within the city can be organised – at additional cost – for those who arrive early.
Day 2
An early breakfast then transfer to the airport for the flight to Bagdogra. Overnight in homestay at Majua, an excellent location for birding as well as for finding the Bhutan Flying Squirrel.
Day 3
This morning we make our way into Singalila National Park and to Habre's Nest – our home for the next few days. After lunch we begin our search for the red panda on foot, exploring various trails through the park.
Days 4, 5, 6 & 7
We continue exploring Singalila in search of the red panda along with the diversity of birds and the wildcats in the region.
Sandakhphu top, situated within Singalila National Park, is the highest peak in West Bengal and offers the best view of Kangchenjunga also known as Sleeping Buddha or Sleeping Shiva.
Day 8
Travel back to Delhi. After breakfast take the road transfer to Bagdogra from where you catch your flight to Delhi (1630/1850). Overnight will be at Holiday Inn Aerocity.
Day 9
Fy from Delhi to Jabalpur where you will be met and tranferred by road to Kanha Tiger Reserve. You should arrive at Flame of the Forest Lodge around 5pm.
Day 10
Begin exploring Kanha Tiger Reserve. Guests visiting Kanha can explore the jungle by taking 2 safari drives into the core area of the park. These drives are for a 4 hour duration in the morning and about 3 hours in the evening. The starting and end times may vary depending on the season and sunrise & sunset time.
Days 11 & 12
Continue exploring the park in the 2 safari drives. Kanha is divided into 5 tourist zones. Although the wildlife diversity in each zone may be similar the landscape differs quite a bit.
Day 13
This morning you take your last drive into Kanha then, after an early lunch transfer by road to Jabalpur Airport and catch your flight to Delhi where you can connect on to your international flight back home.
Accommodation
Habre's Nest, Singalila National Park
Habre's Nest is a homestay that is located in the quaint hamlet of Kaiakata on the India and Nepal border. The home is built in Nepali design typical of this region and houses all basic amenities that guests will require. It is a research hub along with a wildlife tourism centre promoted by like minded wildlife enthusiasts. This project was ideated and executed by Shantanu who has been working in the Singalila ridge since 2011.
Flame of the Forest Lodge
Flame of the Forest is an intimate Lodge, designed with heart and soul. A private courtyard mirrors the entry to a local home.
Each of the four cottages have a deck with a stunning view over looking the river and the forest beyond.
The kitchen is the heart of Flame of the Forest and it is stocked from their own vegetable garden, local markets, fresh river fish from the Narmada river: serving fresh authentic Indian food and recipes from grandmothers, mothers and sisters kitchen.
What is included:
Accommodation for twelve (12) nights in India with breakfast included in Delhi. Your stay in Singalila & Kanha Tiger Reserve will be on full board.
Seven (7) exclusive jeep safaris in Kanha Tiger Reserve.
One (1) optional nature walk around the lodge with a naturalist.
Walking / Trekking in Singalila with a naturalist on all days that you are there.
All road transfers will be by air-conditioned Toyota Innova
What is not included:
Does not include any beverages including mineral water, soft drinks, alcoholic drinks etc. unless otherwise specified.
Any items of a personal nature such as beverages, tips (except for group meals and baggage handling), laundry, telephone calls etc.
Anything listed as optional.
Significant escalation in fuel prices, new taxes,levies on hotels and transportation services or any increases in entrance fees.